1.


WELCOME TO THE NGV
BIENVENIDOS A LA GALERIA NACIONAL DE VICTORIA
2.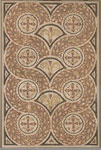 NORTH COAST OF AFRICA, (Carthage)
Geometric wreath mosaic
mid 4th century – late 4th century AD
Purchased, 2006
ROMAN MOSAIC
MOSAICO ROMANO
3.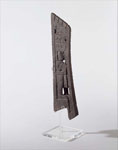 Ameca, Jalisco, West Mexico
Ball player Proto-Classic, 250 BC – AD 300
Purchased through The Art Foundation of Victoria with the assistance of
J. Gadsden Australia Limited, Fellow, 1982
BALL PLAYER
JUGADOR DE PELOTA
4.
Jusepe de RIBERA
Martyrdom of St Lawrence (1620–24)
Purchased with funds donated by Allan and Maria Myers and an anonymous
donor, 2006
MARTYRDOM OF ST LAWRENCE
EL MARTIRIO DE SAN LORENZO (JUSEPE DE RIBERA)
5.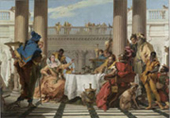 Giambattista TIEPOLO
The Banquet of Cleopatra (1743–44)
Felton Bequest, 1933
THE BANQUET OF CLEOPATRA
EL BANQUETE DE CLEOPATRA (GIAMBATTISTA TIEPOLO)
6.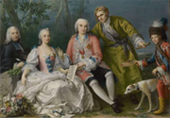 Jacopo AMIGONI
Portrait group: The singer Farinelli and friends (c. 1750–52)
Felton Bequest, 1950
PORTRAIT GROUP: THE SINGER FARINELLI AND FRIENDS
RETRATO DE GROUPO: EL CANTANTE FARINELLI Y SUS
AMIGOS (JACOPO AMIGONI)
7.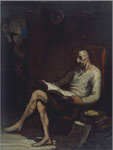 Honoré DAUMIER
Don Quixote reading (Don Quixote lisant) (c. 1867)
Felton Bequest, 1923
DON QUIXOTE READING
DON QUIJOTE LEYENDO (HONORÉ DAUMIER)
8.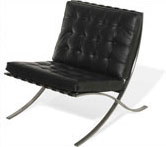 Ludwig MIES VAN DERROHE (designer)
KNOLLI NTERNATIONAL , New York (licensee)
WILIAM LATCHFORD & SONS PTY LTD, North Melbourne and Box Hill (manufacturer)
Barcelona chair (1929) (designed), (1960s) (manufactured)
Presented by William Latchford & Sons Pty Ltd, 1968
© Ludwig Mies van der Rohe/VG BILD-KUNST, Bonn. Licensed by VISCOPY, Australia
BARCELONA CHAIR
SILLA BARCELONA (LUDWIG MIES VAN DER ROHE)
9.
Pablo PICASSO
Weeping woman (1937)
Purchased by donors of The Art Foundation of Victoria, with the assistance of the Jack and Genia Liberman Family, Founder Benefactor, 1986
© Pablo Picasso/Succession Pablo Picasso, Paris. Licensed by VISCOPY, Australia
PICASSO CUBIST PAINTER AND SCULPTOR
PICASSO, PINTOR CUBISTA Y ESCULTOR
10.
BALENCIAGA , Paris (couture house)
Cristobal BALENCIAGA (designer)
Infanta dress 1939
Gift of Sarah Bostock, 1993
INFANTA DRESS
VESTIDO INFANTA (CRISTOBAL BALENCIAGA)
11.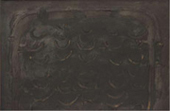 Antoni TÀPIES
Black with curves (1959)
Felton Bequest, 1961
© Antoni Tàpies/AGADP, Paris. Licensed by VISCOPY, Australia
BLACK WITH CURVES
NEGRO CON CURVAS (ANTONI TÀPIES)
All above works are in the collection of National Gallery of Victoria, Melbourne.