All categories
Kids
The National Gallery of Victoria is a place for everyone and warmly welcomes children, teenagers and families.
NGV Kids exhibitions and programs reflect the Gallery's commitment to providing creative experiences for young people and their families.
By collaborating with contemporary artists and designers, the NGV engages children and young people in the visual arts and with cultures from all over the world, enabling them to experience the diverse and creative ways artists and designers approach their work.
NGV KIDS EXHIBITION
×
NGV KIDS EXHIBITION COMING SOON
NEW YORK! NEW YORK!
NGV INTERNATIONAL
GROUND LEVEL
9 JUN 18 – 7 OCT 18
FREE ENTRY
Coinciding with 2018's Melbourne Winter Masterpieces exhibition MoMA at NGV: 130 Years of Modern and Contemporary Art, NGV Kids presents a large–scale participatory installation that will showcase New York City – home of MoMA and recognised as a leading cultural destination.
#1 Early childhood specialists recommend keeping visits short. When planning your visit, select a time in the day that best suits the child and their energy levels
#2 You could treat the visit to the Gallery like a walk in the park. Explore the different spaces and discover different art works along the way and remember you don't need to see the whole Gallery in one visit. Let your child take the lead!
#3 Give your child the camera and ask them to take photos of what interests them. After your visit you can review the images together
#4 Look for aspects of the artworks that relate to the child's everyday lives and talk about them together. For example, comparing a domestic scene to their home?
#5 Look for the children's art work labels and read them together
#6 Ask open-ended questions about the art, such as "What is happening in this picture?"
#7 Ask questions about your visit afterwards
#8 Provide art materials at home so that your child can draw their experiences
#1 If you are visiting a paid exhibition, minimise the time your family spends in a queue by buying tickets online before your visit
#2 Avoid queuing to purchase food by bringing a picnic lunch to enjoy in the Great Hall or NGV Garden
#3 NGV Kids exhibitions can be busy. If your child requires a quieter experience, we recommend visiting during quieter periods from 12pm-1pm or 4pm-5pm Monday-Thursday
#4 There are a variety of quieter spaces at the NGV for a rest during your visit: NGV Garden, Great Hall, Parents room on Ground level, Galleries on upper levels of NGV International and NGV Australia
LET'S DRAW AT THE NGV
Free NGV Kids activity sheets are available to collect from the Information desk on Ground level at NGV International and The Ian Potter Centre: NGV Australia.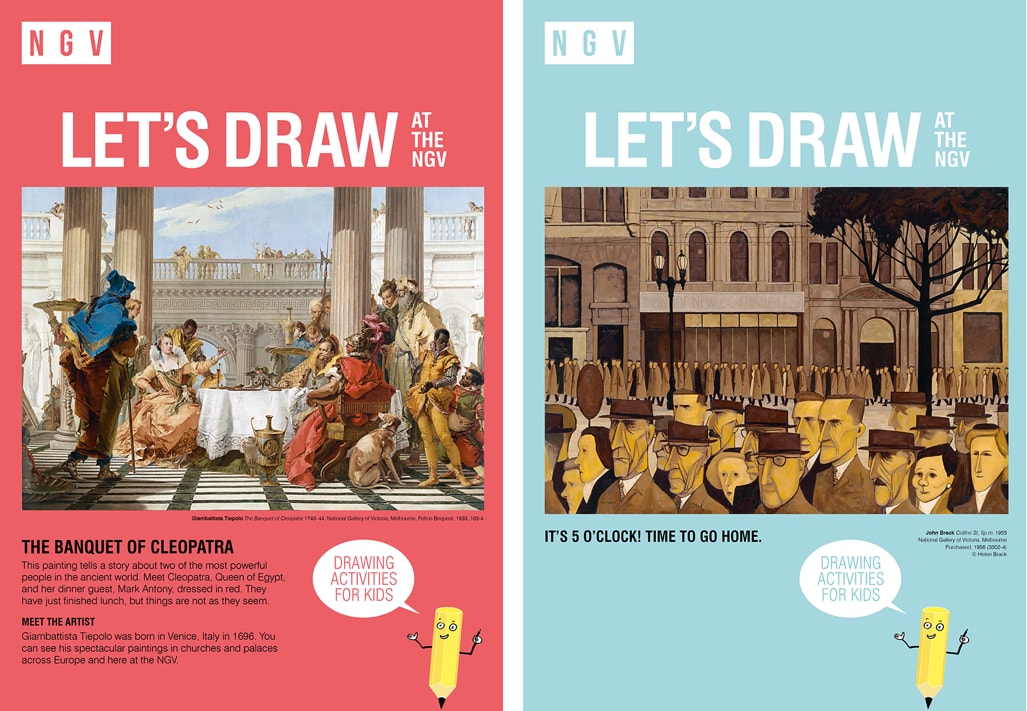 Facilities for Families
Prams
Both NGV International and NGV Australia are fully pram accessible and you are welcome to take your pram into Gallery spaces. During busy times at the NGV Kids Gallery, we ask you to please leave your pram in the designated pram parking spaces outside of the Gallery space. Please remember to take your valuables with you.
Time out
The Great Hall and NGV Garden are great places for children to roam, relax, stretch their legs or lie back and gaze at the stained glass ceiling.
Food
Enjoy babycinos and kids lunch boxes at the Gallery Kitchen and Tea Room or you are welcome to consume food from home in the Great Hall or NGV Garden. Bring a picnic lunch! Please remember food and drink cannot be consumed in NGV Kids exhibitions or in other Gallery spaces, for protection of artworks on display and any large bags, that are not stored underneath prams will need to be cloaked.
Change facilities
Both NGV International and NGV Australia are equipped with baby change facilities on Ground Floor. At NGV International, a dedicated parents room provides a quiet space for families plus private feeding space and a microwave.
Other Information
Early Years and School Group Visits
The NGV offers a stimulating and wonder-filled environment for young learners. For groups of early years' students, the Gallery offers interactive education programs that are developed and presented by experienced educators and align with outcomes in the Victorian Early Years Learning and Development Framework.
Cloaking facilities for groups are available at both NGV International and the Ian Potter Centre: NGV Australia.
Bookings are essential for all group visits, including self-guided visits.
Please note that there may be limited access to the NGV Kids exhibitions for groups during periods of peak visitation.
Ticketed Shows
Children under 5 years are free and do not require a ticket
Children and young people aged 5 to 15 years are eligible for a Child ticket, see exhibition page for prices
Students aged 15 years and over are eligible for a Concession ticket. Remember to bring a valid school ID card.
Parking
Parking is available in the Victorian Arts Centre car park located beneath NGV International. Enter from Sturt Street, Southbank, accessed from St Kilda Road/Southbank Boulevard and Alexandra Avenue/City Road.
Families experience the best of the Gallery with NGV Membership
A free NGV Kids publication when you join
Exclusive programs for children and families
10% discount at NGV design store, cafes and Garden Restaurant
Plus all the benefits of NGV Membership for your family or household.
Suitable for two adults and three children under the age of 18.
Find Out More
Subscribe for NGV Kids updates
By subscribing to NGV E-News, you give permission for the NGV to contact you with information about the NGV, including upcoming exhibitions, special offers and promotions. You can manage your subscription and unsubscribe through your NGV account online. For more information, please read our
Privacy Policy
and
Privacy Statement
.