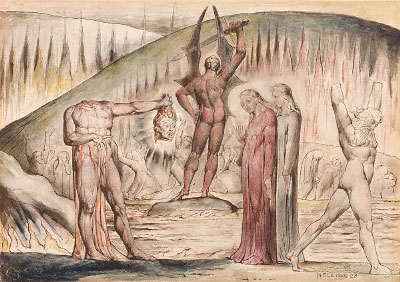 The Schismatics and Sowers of Discord: Mosca de' Lamberti and Bertrand de Born 1824-27
pen, ink and watercolour over pencil (NGV 24)
Felton Bequest, 1920
1009-3
National Gallery of Victoria

Inferno XXVIII, 103-42. Still in the ninth chasm of the eighth circle, Dante and Virgil are shown with Bertrand de Born on the left, now holding out his head like a lantern, and Mosca de' Lamberti, raising the stumps of his handless arms. Bertrand de Born had set Henry II of England against his son, while Mosca de' Lamberti's murder of Buondelmonte had begun the conflict between the Guelph and Ghibelline factions in Florence. The devil that appears in the previous design is shown from behind in the background.