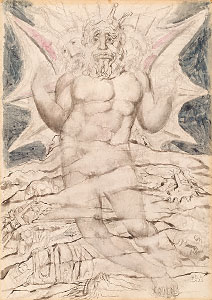 Lucifer 1824-27
pen, ink and watercolour over pencil and black chalk (NGV 28)
Felton Bequest, 1920
1013-3
National Gallery of Victoria

Inferno XXXIV, 10-81. Dante and Virgil are now in the ninth and last circle, that of the Traitors, and have reached the inner of four concentric rings where traitors are frozen in a kind of building, shining like straw in glass. At the centre stands Lucifer, frozen from the waist down, with three heads and bat-like wings, the flapping of which freezes the heart of Hell. In each mouth he chews on a sinner: Judas Iscariot, Brutus and Cassius.