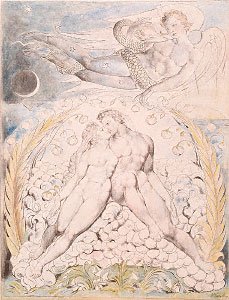 Satan Watching the Endearments of Adam and Eve 1822
pen and watercolour over pencil (NGV 1)
Felton Bequest, 1920
1025-3
National Gallery of Victoria

Paradise Lost IV, 325-535. Adam and Eve sit reclining on a 'soft downy bank damasked with flow'rs', 'Imparadised in one another's arms'. Satan, entwined by the Serpent, a significant detail not in Milton's original text, hovers above them. He looks down upon Adam and Eve and her gaze seems to be directed at Satan rather than at Adam. Blake made no fewer than two drawings and four watercolours of this subject, the earliest version dating from 1806. This sheet is his final version.