Exiles and Emigrants

Education Resource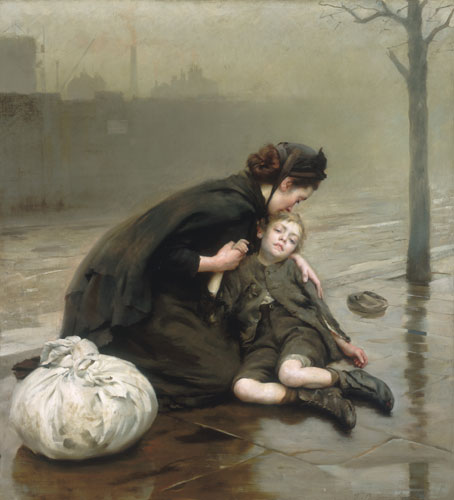 Leaving Home
Thomas Bush Kennington
Homeless 1890
Many orphaned or abandoned children were living on the streets during this time. Some survived by selling matches, working as chimney sweeps or by scrounging in the River Thames for objects of value to sell. Often exhausted and starved, these homeless children were exposed to many diseases, such as whooping cough, influenza and measles, life threatening diseases in those days.
Dressed in black clothing known as widow's weeds, the woman drops her washing bundle to console this homeless boy.
There was little else this widow could do in 1890, what support could you offer today?
How does this artist portray the role of women in 19th century society?
Thomas Bush Kennington
England 1856–1916
Homeless 1890
oil on canvas
166.6 x 151.7 cm
Bendigo Art Gallery, Victoria
Purchased, 1906