Fantastic, ambitious, angry, mysterious: take a step inside the extraordinary lives and times of twenty-five artists who have made an impact, and told a good story along the way. Explore a fateful battle scene, discover a mysterious landscape and come face to face with a community of life-sized neon bears. With each turn of the page, follow extraordinary artists and the journeys of their works, from their creation to eventual place in the permanent collection of the National Gallery of Victoria.
You're invited to join author Ronnie Scott and a panel of teens on a journey through twenty-five of the most dramatic and exciting stories about artists and artworks in this new NGV teen publication. What did a bicycle mean to Ai Weiwei when he was growing up in a small town? How did Louise Bourgeois learn to cope with her unhappy family life? What can we learn from Avalokiteshvara's life-changing transformation? Hear teens speak to these stories and how they are connected to contemporary teenage life.
Speakers
Ronnie Scott teaches creative writing at RMIT University, Melbourne, is the founder of The Lifted Brow literary magazine and author of Salad Days (2014).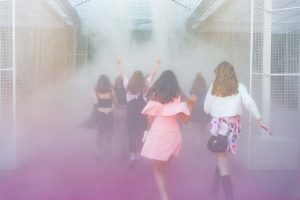 Discussion panelists Jasper, Kayla, and Trianna are Melbourne teens with a passion for the arts.
Jasper is a year ten student inspired by art, psychology, and his favourite artist Brett Whitley. Jasper would like to pursue a career in the art industry — perhaps working as a curator or with social media.
Kayla has started her first year of University after completing Year 12 on popular ABC iView show My Year 12 Life. Her favourite musicians are Justin Timberlake, Justin Bieber and Beyoncé. She aspires to become a lawyer or a performer.
Trianna also starred on ABC iView's My Year 12 Life and is now at University of Melbourne studying a Bachelor of Commerce. Trianna enjoys the films of Wes Anderson and Richard Linklater and her favourite artist, Ai Weiwei, features in upcoming teen publication.
Catering
All this excitement is hungry work — dig into free doughnuts provided by ALL DAY DONUTS, Brunswick.