In Beach at low tide (Plage à marée base), Degas has captured a scene from his holiday Beuzeval, on the Normandy coast, in 1869.
The act of painting in the landscape, or en plein air, would normally require a lot of tools and setup. Your papers or canvas, an easel, pastels or paints and most importantly good weather. Well, with your tablet you now only need to bring one thing (sorry, not even that fancy thing can control the weather for you…yet).
In this activity you are going use digital pastels to capture a landscape. Be it your classroom, playground, home… anything. We will be using the app ArtRage (this is a paid for app, but one we will be using a lot as it is a perfect complement to real life art tools and materials)
Links:
STEPS:
Open the ArtRage app on your device.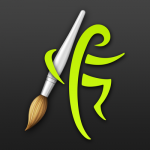 2.  Choose the Chalk Pastel brush.
3.  That's pretty much it, find an inspirational spot and pastel away!
4.  You can use the Knife tool to smudge some of your pastel strokes to add more shape or form.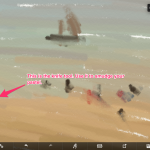 Make sure to sign, and then share your creations with the world.
Visit the exhibition page for Degas: A New Vision to learn more about the artist and exhibition themes, to view an interactive timeline, to see key works from the exhibition, and to download exhibition labels.