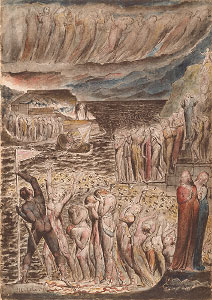 The Vestibule of Hell and the Souls Mustering to Cross the Acheron 1824-27
ink and watercolour over pencil (NGV 4)
Felton Bequest, 1920
989-3
National Gallery of Victoria

Inferno III, 22-83. Dante, led by Virgil, has entered the Vestibule of Hell and reached the shores of the river Acheron where the souls of those who lived without blame and without praise wait to be ferried across; above them mourn the choir of angels who neither rebelled nor were faithful to God, and who were chased from Heaven but refused by Hell. Dante describes the ensign with a banner leading the souls, and the hornets and wasps that attack them.