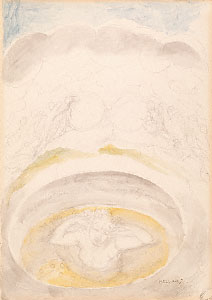 The Goddess of Fortune 1824-27
pencil, pen and watercolour (NGV 7)
Felton Bequest, 1920
993-3
National Gallery of Victoria

Inferno VII, 25-96. Blake combines Dante's description of the two opposing circles of the Avaricious and the Prodigal, who roll enormous weights against each other, with Virgil's description of Dame Fortune, who has governed their lives. The group of the Avaricious on the left are priests, popes and cardinals, and Blake marks the weight with which they fight 'Celestial Globe'; the other group fight with a weight inscribed 'Terrestrial Globe'. Just above the figure of Fortune Blake has inscribed: 'The hole of a Shithouse / The Goddess Fortune is the devils Servant ready to Kiss any ones Arse'.