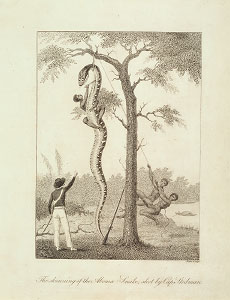 William Blake, probably after Cap. John Stedman
The Skinning of the Aboma Snake shot by Cap. Stedman c.1792
from John Gabriel Stedman, Narrative, of a Five Years' Expedition, against the Revolted Negroes of Surinam, J.Johnson & J.Edwards, London, 1796
engraving with etching
Purchased from admission funds, 1990
P138-1990
National Gallery of Victoria

The scene shows one of the black slaves - 'the negro David' - climbing up the boa constrictor (said to have been 22 feet long) in order to begin skinning the snake. The figure in the lower left is probably Stedman.