Crossing Borders / Curriculum Link / Art Making Activities / eX de Medici
Art Making Activities
Listen to the interviews with the artists on this site and study their work.
The work of these artists explores key issues affecting the world today eg environment, war, identity.
What key world issues do you feel passionately about eg global warming, racism etc?
Brainstorm creative ideas for helping to resolve these issues.
Describe and discuss the use of media and techniques that each artist has chosen to explore their issue(s).
Discuss how the media and techniques contribute to conveying the artists' ideas about these issues.
---
Starting Points
Consider the following suggestions as starting points to explore your own ideas about issues that interest you.
List of Artists
Bani Abidi | Lorraine Connelly-Northy | eX de Medici | Yinka Shonibare | Yee I-Lann
eX de Medici as inspiration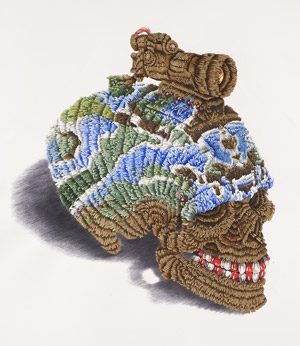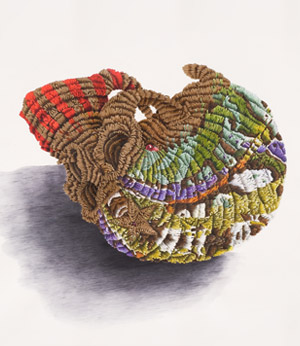 Collect images from magazines and the internet of the natural and man-made world seen from unusual perspectives eg satellite pictures of the Earth, images of human or plant cells, close-up views of machine parts, photographs of architecture seen from curious angles.
Draw an element of the natural world eg an insect, leaf, shell or stone under a magnifying class.
Take photographs of an element of the natural world from several viewpoints eg close-up, birds- eye view and other unusual angles.
Repeat these two processes with a man-made object.
The artist says that she attempts to make drawings of items with unpleasant connotations 'visually seductive'. Draw or photograph something you perceive as threatening or menacing. Experiment with ways of making it appear non-threatening and visually pleasing.
How could you use these preliminary drawings and photographs in a finished work exploring an environmental issue? Consider manipulating them eg change the scale or colour, alter with a computer program, repeat the images, re-create as a print such as a lino cut..