Crossing Borders / Curriculum Link / Art Making Activities / Lorraine Connelly-Northey
Art Making Activities
Listen to the interviews with the artists on this site and study their work.
The work of these artists explores key issues affecting the world today eg environment, war, identity.
What key world issues do you feel passionately about eg global warming, racism etc?
Brainstorm creative ideas for helping to resolve these issues.
Describe and discuss the use of media and techniques that each artist has chosen to explore their issue(s).
Discuss how the media and techniques contribute to conveying the artists' ideas about these issues.
---
Starting Points
Consider the following suggestions as starting points to explore your own ideas about issues that interest you.
List of Artists
Bani Abidi | Lorraine Connelly-Northy | eX de Medici | Yinka Shonibare | Yee I-Lann
Lorraine-Connelly Northey as inspiration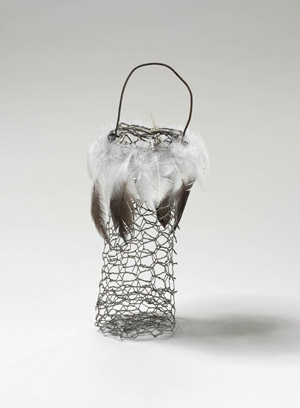 The artist works with elements which some people would regard as rubbish eg discarded man-made objects such as corrugated iron and chicken wire. She manipulates them so that they become objects of beauty associated with her indigenous culture.
Collect discarded items ('rubbish') from your home and local environment – paper scraps, newspapers, packaging, cardboard boxes, foil containers, plastic cartons, egg boxes, bottle tops, plastic netting, tin cans, bubble wrap, corrugated cardboard , fabric scraps etc
List all the elements of your culture which you respect and admire. Choose one of these and create a simple sculptural form which represents or symbolizes this element using the discarded items.
The artist sometimes combines man-made and natural elements to make Koolimans (containers) or dilly-bags ( mesh bags of native grass or fibres) Collect elements of the natural world such as dried grasses, pebbles, shells, feathers, sticks, seed pods. Try to make an unusual container by combining one or more of them with pieces of soft aluminium wire and fine wire or plastic meshing such as sheets of flywire screen.
Take a walk in a heavily industrialised area or one where you consider that the environment has been scarred by ugly features of today's world.
Take photographs of the area and record in key words or phrases why you believe it has been spoilt.
Manipulate the photographs using a computer program to show how the area could look if the ugly features were beautiful, positioned more sensitively or were not there at all.
Create an artwork in any medium which encourages viewers to explore environmental and aesthetic issues in today's world. Consider the use of text or individual words to re-inforce your message.
Photograph images in your everyday environment which most people would regard as ugly eg broken, rusted corrugated iron fences, peeling billboards or paintwork, litter, mould on rotting fruit, building sites, cracked and chipped pavements etc
Transform them into images that you would consider beautiful. Consider photographing at different times of day eg in strong sunlight or at dusk, manipulating the art elements on a computer program such as Photoshop or cropping, enlarging or reducing.