Crossing Borders / Curriculum Link / Art Making Activities / Yinka Shonibare
Art Making Activities
Listen to the interviews with the artists on this site and study their work.
The work of these artists explores key issues affecting the world today eg environment, war, identity.
What key world issues do you feel passionately about eg global warming, racism etc?
Brainstorm creative ideas for helping to resolve these issues.
Describe and discuss the use of media and techniques that each artist has chosen to explore their issue(s).
Discuss how the media and techniques contribute to conveying the artists' ideas about these issues.
---
Starting Points
Consider the following suggestions as starting points to explore your own ideas about issues that interest you.
List of Artists
Bani Abidi | Lorraine Connelly-Northy | eX de Medici | Yinka Shonibare | Yee I-Lann
Yinka Shonibare as inspiration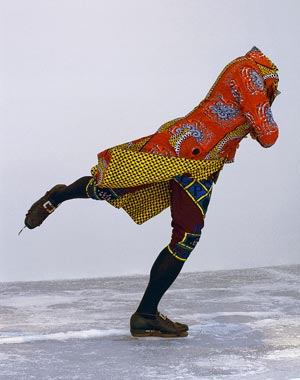 The artist sometimes conveys a message in his work by referring to an historical period. He also borrowed (appropriated) a painting from the past, Portrait of The Reverend Robert Walker Skating, 1784 by Sir Henry Raeburn as a starting point for his sculpture Reverend on ice, 2005
Locate an artwork from the past which particularly appeals to you. Discuss in what ways you could transform the original work to convey a message relevant to the 21st century. Consider how you will alter the formal art elements, style, technique and the meaning or message contained in the work. Create a new work in an artform which best expresses your message eg painting, sculpture, video, collage.
Research a significant event or period in history which interests you. Consider the political situation, customs, lifestyle, structure of society and fashion of the time.
Create an artwork which draws on the event, or period of time, you have researched to reflect on the theme 'History repeats itself' OR the question: 'Has human nature changed over time?'.
Consider making a short video, series of photographs, a sculpture or painting.
Use books, journals and the internet to research the traditional designs and colours of textiles from different regions in the world e.g., North American Amish quilts, Indonesian batiks and ikats, Scottish tartans, Indian woodblock prints, Turkish tiles.
Use these as inspiration for an artwork which explores the diversity of traditional patternmaking compared with the more uniform style of patterns in today's globalized world.
Consider using both traditional and contemporary media and techniques.