Crossing Borders / Curriculum Link / VCE Art and Studio Art, International Baccalaureate Art / eX de Medici
VCE Art and Studio Art, International Baccalaureate Art
These questions and activities have been designed to address the Victoria Certificate of Education (VCE) Art and Studio Art Study Designs and relate to the International Baccalaureate (IB) Art curriculum.

They are suggested starting points for teachers and students to explore the work of five contemporary artists: Bani Abidi, Lorraine Connelly-Northey, eX de Medici, Yee I-Lann and Yinka Shonibare.

It is essential to listen to the filmed interviews with the artists, which show examples of their work, before engaging with the material on this page.
---
List of Artists
Bani Abidi | Lorraine Connelly-Northey | eX de Medici | Yinka Shonibare | Yee I-Lann
eX de Medici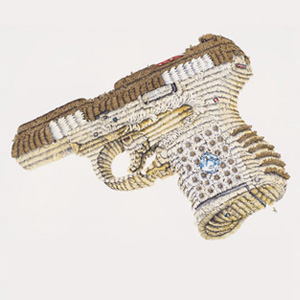 Background Information
eX de Medici has taken part in a residency at the CSIRO Entomology Division where she studied the Australian National Insect Collection. As a result of this project she produced a series of fifty-four watercolour studies of unclassified and extinct microlepidoptera (tiny moths).
The artist is also a tattooist.
INTRODUCTORY DISCUSSION POINTS AND QUESTIONS
Imagine you are describing this image to someone who has never seen it before. Write a brief description of the work which will allow the person to visualise it. Include the following information:
The type of artform, subject matter, art elements, materials used, and the mood and feelings that the work evokes.
Identify two opposite concepts which can be found in this work eg soft/hard, life/death, seductive/repulsive etc. How do you believe they add to the meaning?
The artist is also a tattooist. How might the visual qualities of this work relate to tattooing?
Suggest reasons why the artist might have entitled this work Porno image?
ISSUES AND THEMES
What issues or themes do you believe the artist is exploring? Give reasons based on what you see in this work.
How have the artform, use of materials and the formal art elements contributed to communicating the artist's issues or themes?
How do these issues or themes reflect contemporary society?
COMPARE AND CONTRAST
Locate the portrait of Australian band Midnight Oil by eX de Medici Click here
Why do you believe eX de Medici was chosen to create the portrait of Midnight Oil?
Compare this portrait with Porno image. How are they similar or different? Consider art elements, style, materials, mood and meanings. Suggest reasons for the similarities and differences.
Research the meaning of vanitas painting.Locate a vanitas still-life painting from Holland in the early 17th century. Compare and contrast the painting with a work by eX de Medici on this site. Discuss the similarities and differences.Consider the art elements, materials, subject,style, meaning and mood.
How do the works reflect the time and place in which each was made?
Research the work of Australian artist John Wolseley who is also known for his intricate botanical style drawings of nature. Compare and contrast a work by Woseley with one by de Medici. In what ways are they similar and different? Consider the purpose, meanings, materials, style and technique.
INTERPRETING ART
The artist says her work can have different entry points depending on the past experience of the viewer. Explain with reference to at least two different types of viewer eg soldier, scientist, environmentalist how this might occur.
Interpretive frameworks
Analyse and interpret Porno image, 2005 using three different interpretive frameworks. Include a formal interpretation (art elements, principles of design, style and technique) and two other frameworks eg culture, gender, symbolism, Post -modernism etc.
DISCUSSING AND DEBATING ART
The artist spends between three and four months making the watercolours such as Porno image. Does this affect your opinion of the work? Explain.
Is it essential to exhibit mastery of skills and techniques to be considered a 'good' artist? Discuss with reference to the work of eX de Medici and at least one other artist.
Do you believe the notion of Australian art exists any more or has it been subsumed into international art? Discuss with reference to at least two Australian and international contemporary artists.
Meanings and messages
It could be argued that Porno image can be seen to contrast nature and civilization. Give some reasons to support this idea.
The artist has explained that some of the insects she draws as source material for her watercolours are potentially extinct. How does this contribute to the message in this work?
What do you believe the guns, skulls and potentially extinct moth pelts symbolize in de Medici's work.
In what other ways do you believe the artist uses symbols to convey meaning in her work?
Are these symbols universal? Explain why or why not.
Commentaries and Opinions
Explain in your own words what message the artist is communicating in the statement below. Discuss why agree or disagree with her viewpoint.

'The insects are little tiny metaphors for the notion of endless variation within species, of diversity and belonging to place, of delicacy and mortality, the glory of nature. These metaphors act as the metaphysical targets of those pharaohs of commerce who make the world in their image, a world of holes and sameness, where the natural wonders are crushed into the shape of slag heaps and sawdust.'

eX de Medici in email interview with Roger Leong describing why extinct species of insects feature prominently in her work.
Page 93, 2006 Contemporary Commonwealth, edited by Charles Green, National Gallery of Victoria, 2006.
Influences
How can you tell from the artwork on this site that the artist has been studying and drawing insects at CSIRO?
Describe at least two more influences on the artist which you consider are evident in Porno image
Materials, techniques and processes
The artist often uses a microscope to observe fine detail on minute insects as she draws her studies. In what ways would this affect her drawing style? How is this evident in her finished watercolours?
Discuss why the artist might be attracted to the mediums discussed below. How might they contribute to the meaning of her work?:


'Watercolour is not considered a serious medium but I have always been attracted to things deemed not interesting or unworthy in the high status stakes: biro, coloured pencil, photocopy, tattooing, watercolour, natural history.'

eX e Medici in email interview with Roger Leong, 2006 Contemporary Commonwealth, edited by Charles Green, National Gallery of Victoria, 2006.

The artist says that she wants the objects in her works to be 'instantly recognizable' and 'visually seductive.' Describe the techniques she has used to create these effects.

Page91 2006 Contemporary Commonwealth, edited by Charles Green, National Gallery of Victoria, 2006
Style
Describe the distinctive qualities of eX de Medici's style. Consider materials, technique, expression of ideas, formal art elements.