Crossing Borders / Curriculum Link / VCE Art and Studio Art, International Baccalaureate Art / Yee I-Lann
VCE Art and Studio Art, International Baccalaureate Art
These questions and activities have been designed to address the Victoria Certificate of Education (VCE) Art and Studio Art Study Designs and relate to the International Baccalaureate (IB) Art curriculum.

They are suggested starting points for teachers and students to explore the work of five contemporary artists: Bani Abidi, Lorraine Connelly-Northey, eX de Medici, Yee I-Lann and Yinka Shonibare.

It is essential to listen to the filmed interviews with the artists, which show examples of their work, before engaging with the material on this page.
---
List of Artists
Bani Abidi | Lorraine Connelly-Northey | eX de Medici | Yinka Shonibare | Yee I-Lann
Yee I-Lann

Background Information
In October, 2003, Malyasian Prime Minister, Dr Mahathir Mohamad resigned after twenty-two years in power. Yee I-Lann had known no other leader. She was aware of both the comforts and the dangers of life in Malaysia after the leader's autocratic rule.
In the Horizon series, the artist has superimposed old and new photographic images of Malaysia onto images of the South Australian desert landscape.
INTRODUCTORY DISCUSSION POINTS AND QUESTIONS
Imagine you are describing this image to someone who has never seen it before. Write a brief description of the work which will allow the person to visualise it. Include the following information: The type of artform, subject matter, art elements, style, materials used, and the mood and feelings that the work evokes.
Research the history of Malaysia. In the interview with the artist on this site she discusses the meaning of multi-culturalism. In this context she describes Malaysia as a 'fruit salad' and Australia as a 'yoghurt'. Explain in your own words what she means by these metaphors.
The artist grew up in Malaysia under Dr Mahathir Mohamad's rule Discuss what feelings and thoughts she might have experienced when he retired.
Identify two opposite concepts which can be found in this work eg fragile/strong, space/restriction, etc. How do you believe they add to the meaning?
Discuss at least two influences on the artist which are evident in this work eg landscape, politics.
ISSUES AND THEMES
What issues or themes do you believe the artist is exploring? Give reasons based on what you see in this work.
How have the artform, use of materials and the formal elements contributed to communicating the artist's issues or themes?
How do these issues or themes reflect contemporary society?
COMPARE AND CONTRAST
Research the work of contemporary Australian artist Bill Henson, American 20th century painter Edward Hopper and Italian 20th century painter Giorgio de Chirico
Compare and contrast a work by one of these artists with Layang layang putus tali from the Horizon series, 2003 .How are they similar or different? Consider subject matter, art elements, style, technique materials, mood and meanings. Suggest reasons for the similarities and differences.
How do you believe the works reflect the time and place in which each was made?
To what extent can the visual qualities of a landscape in art suggest a mood, meaning or state of mind? Discuss in relation to Layang layang putus tali from the Horizon series, 2003 and one other work eg a landscape by 20th century Australian artist Russell Drysdale.
INTERPRETING ART
Interpretive frameworks
Analyse and interpret Layang layang putus tali from the Horizon series, 2003.using three different interpretive frameworks. Include a formal interpretation (art elements, principles of design, style and technique) and two other frameworks eg culture, gender, symbolism, Post-modernism etc.
DISCUSSING AND DEBATING ART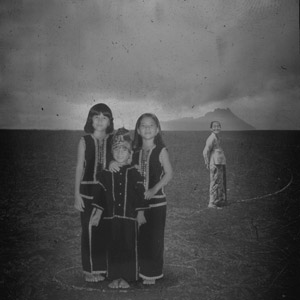 Is photography art? Justify your position by referring to examples of photographic work by artists and amateur photography such as family snapshots. Include work by contemporary artists such as Australian, Patricia Piccinini and Canadian, Jeff Wall and examples of earlier photographs such as those by Australian, Max Dupain.
Meanings and messages
How do you believe the monochromatic palette contributes to the meaning of this work?
Suggest how the mood and meaning might change if the artist had used bright primary colours?
How could this work be seen to suggest a sense of unease? Consider the visual qualities.
What do you believe the horizon symbolizes in this work?
Why has the artist combined photographs of the Australian desert with old and new photographs of Malaysia? Explain how you believe this technique contributes to the meaning of the work?
How do you believe the artist has addressed the concept of 'crossing borders' in this work? Give three examples.
Commentaries and Opinions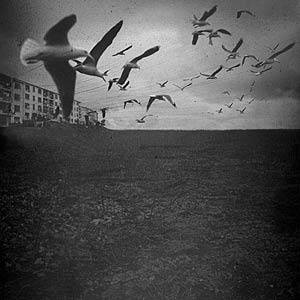 Freedom, restriction
Let me fly
Let go
I push, you pull
A kite with wings
Flying into the unknown
Away from constraints
Away from prejudice
Away.....

Spread and ready
Held too close
What a life, what a lie
Separate, tangle, intertwine
Weaving the threads of destiny.
Emptiness and distance separate us
Too far, too hard, too cruel
Wish you were here,
Wish I was there
Dipping, soaring, to the end of my tether
Watching the dreams fly by.

Touch down
When all you know is lost
What you want is not yours
What you need I need more
Silent wings beat still air
The movement brings you closer
But I will wait forever
You are not free
Your mind restrains your actions
And so your mind restrains me.

Jessica Fernandez, Year 10 student
This poem was written in response to Layang layang putus tali from the Horizon series, 2003.
Explain what ideas you believe the poet is expressing and how these relate to the artwork.
Materials, techniques and processes
Select a painting and a manipulated digital print by two artists who address the same subject eg the landscapes of Australian contemporary painter Tim Storrier and the computer manipulated landscapes of Australian contemporary artist Rosemary Laing. Compare and contrast the qualities of each with reference to art elements, style and mood.
Describe new technologies and scientific advances which have enhanced the work of contemporary artists. Refer to materials, techniques and processes in at least two artworks.
The following comment was made with reference to the computer program, Photoshop:


..that powerful tool for destabilising what remaining sense we had of absolute truth in the visual field.

Huzir Sulaiman discussing the computer program, Photoshop
Page 137, 2006 Contemporary Commonwealth, edited by Charles Green, National Gallery of Victoria, 2006.

Explain what you believe the commentator meant by this statement.