Crossing Borders / Curriculum Link / VCE Art and Studio Art, International Baccalaureate Art / Lorraine Connelly-Northey
VCE Art and Studio Art, International Baccalaureate Art
These questions and activities have been designed to address the Victoria Certificate of Education (VCE) Art and Studio Art Study Designs and relate to the International Baccalaureate (IB) Art curriculum.

They are suggested starting points for teachers and students to explore the work of five contemporary artists: Bani Abidi, Lorraine Connelly-Northey, eX de Medici, Yee I-Lann and Yinka Shonibare.

It is essential to listen to the filmed interviews with the artists, which show examples of their work, before engaging with the material on this page.
---
List of Artists
Bani Abidi | Lorraine Connelly-Northey | eX de Medici | Yinka Shonibare | Yee I-Lann
Lorraine Connelly-Northey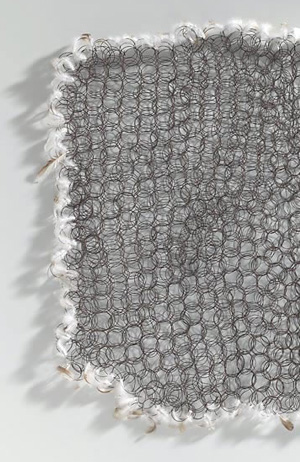 Background Information
Lorraine Connelly-Northey is of indigenous (Waradgerie) and Irish descent.
The objects and installations she creates are related to the history and culture of the Waradgerie people which she has thoroughly researched.
She has built up a deep knowledge of Aboriginal weaving techniques which she applies to her practice.
The artist collects discarded items related to colonisation such as scraps of corrugated iron, jam tins and barbed wire which she uses in her artworks. She often combines these with natural elements including feathers and shells to create artworks which celebrate her indigenous cultural knowledge.
INTRODUCTORY DISCUSSION POINTS AND QUESTIONS
Imagine you are describing the first image to someone who has never seen it before. Write a brief description of the work which will allow the person to visualise it. Include the following information:
The type of artform, subject matter, art elements, style, media and the mood and feelings that the work evokes.
This work represents a possum skin cloak worn by a traditional indigenous man. Describe in what ways the artist has transformed rigid industrial materials to create an image of warmth and flexibility.
Suggest reasons why the artist might have entitled this work Hunter-gatherer?
In what ways do you believe this work reflects the time it was made in?
ISSUES AND THEMES
What issues or themes do you believe the artist is exploring? Give reasons based on what you see in this work.
How have the artform, use of materials and the formal art elements contributed to communicating the artist's issues or themes?
How do these issues or themes reflect contemporary society?
COMPARE AND CONTRAST
Research the work of 20th century Australian artist Rosalie Gascoigne who also used found materials in her artwork. Compare and contrast a work by Gascoigne with one by Connelly-Northey. In what ways are they similar and different? Consider the cultural backgrounds of the artists, purpose, meanings, materials, style and technique.
Research the work of 20th century indigenous artist Lin Onus who like Connelly-Northey is of mixed descent (Indigenous and Scottish). Discuss in what ways you believe their work is similar and different. Consider the materials, style and meanings.
In what ways do you believe their work could be seen to symbolize 'reconciliation'?
INTERPRETING ART
Interpretive frameworks
Analyse and interpret Hunter-gatherer, 2004-5 using three different interpretive frameworks. Include a formal interpretation (art elements, principles of design, style and technique) and two other frameworks eg culture, gender, symbolism, Post -modernism etc.
DISCUSSING AND DEBATING ART
Meanings and messages
The artist has used scraps of fencing material and pieces of wire in this work. Discuss whether or not you believe they are used as symbols which contribute to the meaning of the work.
How might the weathered quality of the corrugated iron in Hunter-gatherer, 2004-05 contribute to the meaning of the work?
Commentators have argued that Connelly-Northey's work raises the issue of colonisation and its impact on Aboriginal people. Discuss with reference to Hunter-gatherer, 2004-05.
It could be argued that Hunter-gatherer, 2004-05 stimulates the viewer to compare today's consumerist society with traditional Aboriginal life. Explain why you agree or disagree with this idea.
Commentaries and Opinions
Explain why you agree or disagree with the critic's comments below with reference to Hunter-gatherer, 2004-05.

She has created some fine shapes that resemble shields and weavings from tribal times. But her forms are made with chicken wire and corrugated iron, all old and derelict, with an archaeological patina. It's also slightly sad, as the metals that substitute for organic materials in older indigenous societies connote enclosure and even captivity, as with the barbed-wire fencing material that looks almost like a three-dimensional painting, very beautiful but also sinister and tragic.

Robert Nelson reviewing 2006 Contemporary Commonwealth at NGV Australia, The Age , Saturday 11 March, 2006
Art and beauty
How do you define beauty in art? Explain what criteria you use to decide if an artwork is beautiful or not.
Many would argue that this work is beautiful. Explain why you agree or disagree.
Discuss whether or not viewing this artwork has changed your original perception of what is beautiful in our environment.
Materials, techniques and processes
Compare and contrast the traditional materials used by Aboriginal people to create functional objects with those used by Connelly-Northey
Discuss the advantages of working with found materials rather than purchased new materials.
What technical problems and health issues might the artist experience when working with rusty and discarded objects?
Art Issues
Some indigenous artists working today explore the same issues as non-indigenous contemporary artists and use Western materials to create their artworks. Do you believe they should be described as indigenous artists or contemporary Australian artists? Explain the reasons for your opinion.