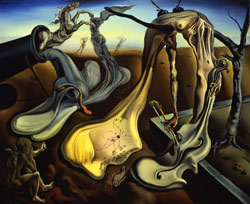 Salvador DALÍ
Spanish 1904–89, worked in United States 1940–48
Daddy Longlegs of the evening – Hope! 1940
oil on canvas
40.6 x 50.8 cm
The Salvador Dalí Museum, St Petersburg, Florida
Worldwide Rights: © Salvador Dalí, Fundació Gala-Salvador Dalí, VISCOPY, 2009.
In the USA: © Salvador Dalí Museum Inc., St. Petersburg, FL, 2009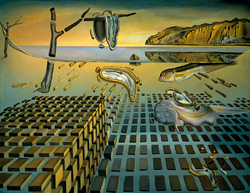 Salvador DALÍ
Spanish 1904–89, worked in United States 1940–48
The disintegration of The persistence of memory 1952–54
oil on canvas
25.4 x 33.0 cm
The Salvador Dalí Museum, St Petersburg, Florida Worldwide Rights: © Salvador Dalí, Fundació
Gala-Salvador Dalí, VISCOPY, 2009.
In the USA: © Salvador Dalí Museum Inc.,
St. Petersburg, FL, 2009
Salvador DALÍ
Soft self-portrait with grilled bacon 1941
oil on canvas
61.0 x 51.0 cm
Fundació Gala-Salvador Dalí, Figueres (0043)
© Salvador Dalí, Fundació Gala- Salvador Dalí,
VISCOPY, 2009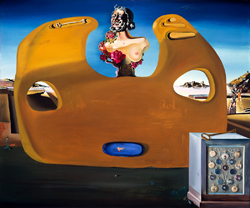 Salvador DALÍ
Spanish 1904–89, worked in United States 1940–48
Memory of the child-woman 1932
oil on canvas
99.1 x 120.0 cm
The Salvador Dalí Museum, St Petersburg, Florida
Worldwide Rights: © Salvador Dalí, Fundació
Gala-Salvador Dalí, VISCOPY, 2009.
In the USA: © Salvador Dalí Museum Inc.,
St. Petersburg, FL, 2009
13 June – 4 October 09
is open daily 10am–5pm and until 9pm every Wednesday and on Thursday 1 and Friday 2 October
Don't miss 24-hour Dalí on Saturday 3 October when Dalí will be open all night!
NGV International
Exhibition catalogues are
available from the NGV Shop in person or
online
.

Tickets
Adult: $23
Concession: $18
Child: $11 (ages 5-15)
Family (2 adults + 3 children): $60
NGV Member Adult: $16
NGV Member Family: $40

Unlimited entry tickets
Adult: $55
Concession: $45
NGV Member Adult: $40

Wednesdays only
Seniors: Cardholders receive concession entry
Students: receive $11 entry from 4pm during art after dark

24-hour Dali
Open 10am Saturday 3 October. Must close 5pm Sunday 4 October (last ticket sales 3pm).
Students receive $11 entry between 4pm Saturday 3 October and 10am Sunday 4 October.
2 for 1 full priced Adult tickets between midnight and 10am!
art after dark
Open until 9pm every Wednesday and on Thursday 1 and Friday 2 October
NGV food & wine highlights
Persimmon Café/Bistro
open for dinner
Gallery Kitchen
open for breakfast
For packages to Melbourne Winter Masterpieces please see your local travel agent or call Qantas Holidays
on 13 14 15
The first comprehensive retrospective of the work of Salvador Dalí ever to be staged in Australia exclusive to the National Gallery of Victoria (NGV) as the sixth exhibition in the Melbourne Winter Masterpieces series.

Salvador Dalí: Liquid Desire brings together more than 200 stunning works by Salvador Dalí in all media including painting, drawing, watercolour, etchings, sculpture, fashion, jewellery, cinema and photography.
The exhibition is drawn from the two largest collections of Salvador Dalí in the world, the Fundació Gala- Salvador Dalí in Figueres, Spain and the Salvador Dalí Museum in St Petersburg, Florida.

Salvador Dalí: Liquid Desire explores the brilliance of Dalí through chronological sections with visitors first encountering the artist as an accomplished young Impressionist painter with what is widely considered to be his first masterpiece, Self-Portrait with Raphaelesque Neck.

The exhibition then moves through Dalí's experimentation with Cubism, Abstraction, Neoclassicism and New Objectivity during his student years and his leadership of the Surrealist movement in Paris during the 1930s.

Salvador Dalí: Liquid Desire also includes the most significant Dalí work held in an Australian collection, the Lobster Telephone from the National Gallery of Australia, arguably one of the most famous sculptures of the twentieth century.

A highlight of the exhibition is the return to Australia of the artist's 1932 painting Memory of the Child- Woman. This was the first Dalí painting ever to be seen in Australia in 1939 and was met with great controversy.

Viewers will also be introduced to Dalí's contribution to 20th century cinema, from his early collaborations with the Spanish film-maker Luis Buñuel to his involvement with Alfred Hitchcock and other directors in Hollywood during the 1940s.
This SlideShowPro photo gallery requires the Flash Player plugin and a web browser with JavaScript enabled.
Exhibition organised with Fundació Gala-Salvador Dalí, Figueres, Spain and the Salvador Dalí Museum in St Petersburg, Florida.