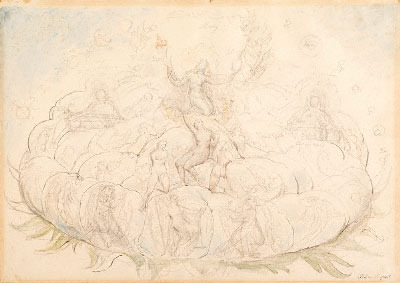 The Queen of Heaven in Glory 1824-27
pen and watercolour over pencil and black chalk (NGV 38)
Felton Bequest, 1920
1023-3
National Gallery of Victoria

Paradiso XXX, 97-126; XXXI, 1-21, 55-73 and 112-42; XXI, 1-9. This is the last of Blake's illustrations to Dante's Divine Comedy and it was left unfinished. The Redeemed are depicted as a great rose with Beatrice seated in the centre below the Virgin Mary. All commentators are agreed in seeing in this design some condemnation by Blake of Dante's ideas on salvation. A concise account of the varying interpretations of this drawing appears in the catalogue.