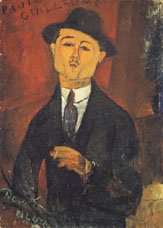 Amedeo Modigliani
Paul Guillaume, Novo Pilota, 1915
Oil on cardboard mounted on cradled
plywood
105.0 x 75.0cm
Musée de l'Orangerie, Paris
© Photo RMN - Daniel Arnaudet
From humble beginnings, Paul Guillaume (1891–1934) rose to become one of the leading cultural players and art dealer-collectors of Paris in the early twentieth century. Guillaume died at the age of forty-two, by which time he had amassed an outstanding private collection of works by leading modernists. Unlike many art collectors of the time, Guillaume did not come from a wealthy and cultivated background, nor was he only interested in simply supplying works of art for customer demand like other art dealers. He also actively promoted certain aspects of the artistic and cultural life of Paris, providing moral and material support to artists, and interpreting the art of his time for his contemporaries. This approach, while not uncommon today, was innovative at the time and had previously been attempted by only a few courageous dealer-collectors in Paris, such as Paul Durand-Ruel and Ambroise Vollard. Guillaume was celebrated by the artists whom he supported; for instance in Modigliani's portrait the words Novo Pilota, or 'new helmsman', identify the sitter as being at the forefront of modern art.
Guillaume's premature death prevented his dream – of transforming his private collection to a museum of modern art – from being realised. After his death Domenica, his widow and heir, remarried and modified the existing collection, selling some of the more extreme avant-garde works (and later his collection of African art and modern sculpture) and acquiring works of a more conservative character. Domenica's concern to promote harmony among the works in the Guillaume collection made her edited version of the collection all the more typically a capsule of Parisian taste in the 1920s. Before he died, Paul Guillaume had resolved to give his collection to the Louvre. Domenica, a lover of Impressionist art (Monet's Argenteuil 1875 was one of her last acquisitions), sought to intertwine her late husband's philanthropic impulses with her own. After much negotiation, the French state acquired the collection in two consignments in 1959 and 1963 and housed it in the refurbished Musée de l'Orangerie in Paris, which was at the time attached to the Louvre for administrative purposes. The Orangerie now housed not only Monet's major Water Lilies cycle of paintings, but also the magnificent collection bearing the names of Domenica's two husbands, Jean Walter and Paul Guillaume. The collection has been on permanent display since 1984.