Henry Talbot: working with colour
By Anne-Marie Van de Ven
Curator, Museum of Applied Arts and Sciences, Sydney
Australian model Janice Wakely wearing Everglaze cotton outfit, Place du Tertre, Paris, 1960
Ostensibly, Henry Talbot was a commercial photographer, but he was also an artist. He was whimsical and witty, and a colourful character. During 1938, Talbot studied commercial art, not photography, at the Reimann School in Berlin before fleeing Nazi Germany. Of his early days, he said:
I actually always wanted to be a photographer, but was also interested in design. My parents thought that 'commercial artist', as it was called then, was a more respectable profession.1
This training as a commercial artist in pre–Second World War Bauhaus Germany, and his childhood disposition to intriguing visual stimuli, went on to inform Talbot's photographic practice.2 He approached the photographic frame as an artist might approach a canvas. When forming images he fashioned blocks of colour, compositional lines and depth of field, then employed lighting and other technical considerations to illuminate the details: the drape of a fabric or tailoring of a dress; the smooth skin and bright redness of a tomato; beautiful reflections on an automobile.
One of Talbot's boldest and most memorable photographs is a colour portrait of model Janice Wakely in Hong Kong, made for Everglaze fabrics.3 In it Talbot likens the model to a modern-day Venus: like Botticelli's Venus, Wakely is welcomed to land; not by a nymph holding a cloak, however, but by a sailor and throng of onlookers. The colourful neon lights of Hong Kong glisten in the background, and a bright red rickshaw cuts diagonally across the front of the picture plane towards the audience as Wakely alights from it in a shimmering, uncrushable cotton sateen Everglaze dress tailored by Australian couturier Hall Ludlow.4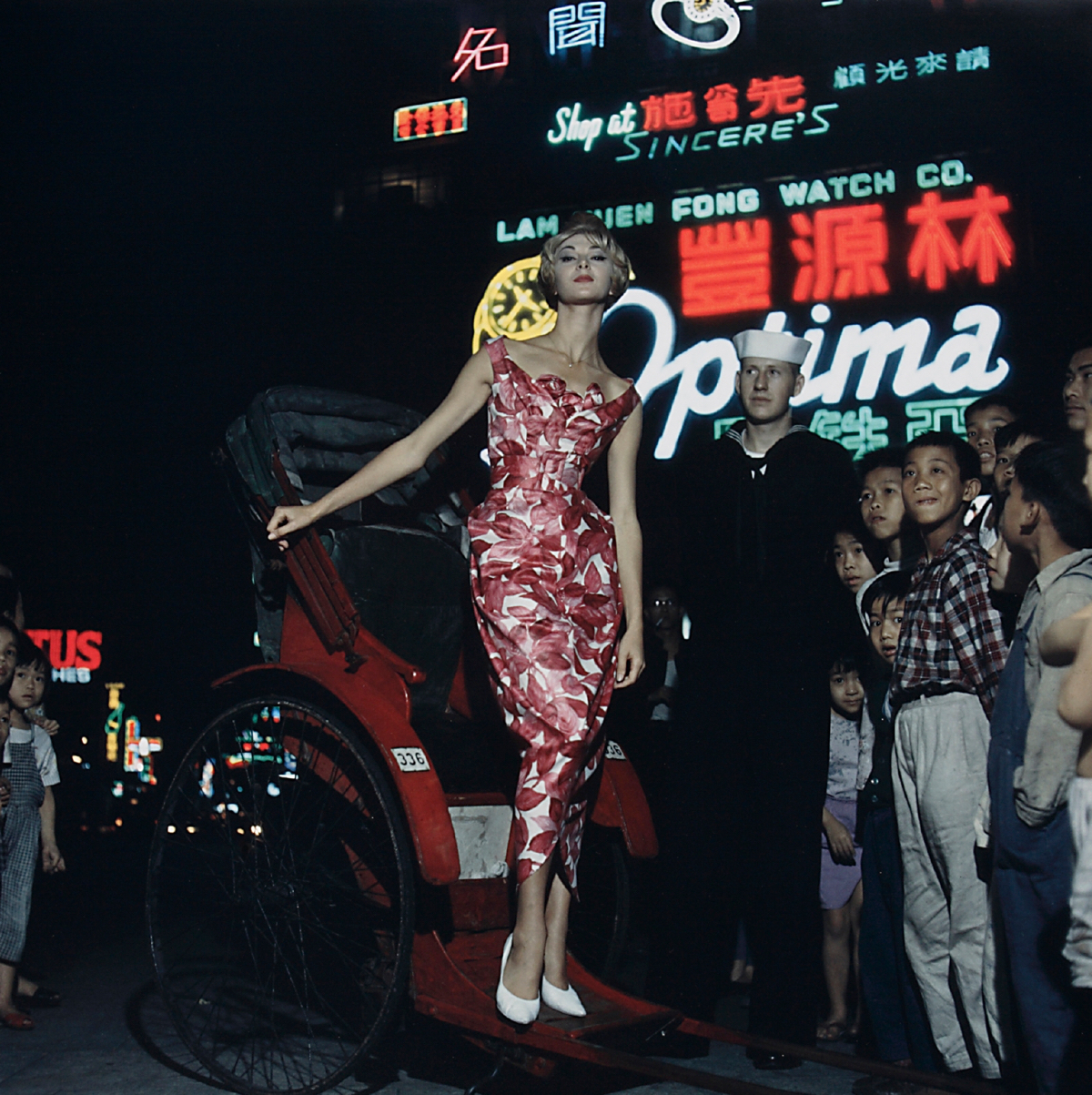 Another of Talbot's most iconic and alluring colour photographs is his portrait of Australian model Penny Pardey, alongside a scooter, wearing a cutaway Pierre Cardin ready-to-wear Cosmocorps collection mini-shift. This photo was taken while Talbot was working for the International Wool Secretariat in Paris in 1967, and was the very first of his photographs acquired by the Museum of Applied Arts and Sciences (MAAS) collection in Sydney.5

It took almost two decades to build MAAS's Henry Talbot archive.6 MAAS's Talbot collection now consists of negatives and transparencies, prints and proof prints, biographical and print material documenting Talbot's diverse range of clients, from the 1950s to the 1970s. Images of fabrics, fashion, shoes, lingerie, hair and cosmetics are included. Notable among the cosmetics group is a luxurious large format (10 x 8 inch) portrait of Justine Silver in a bath of milk and roses, taken for Cyclax in the mid 1960s.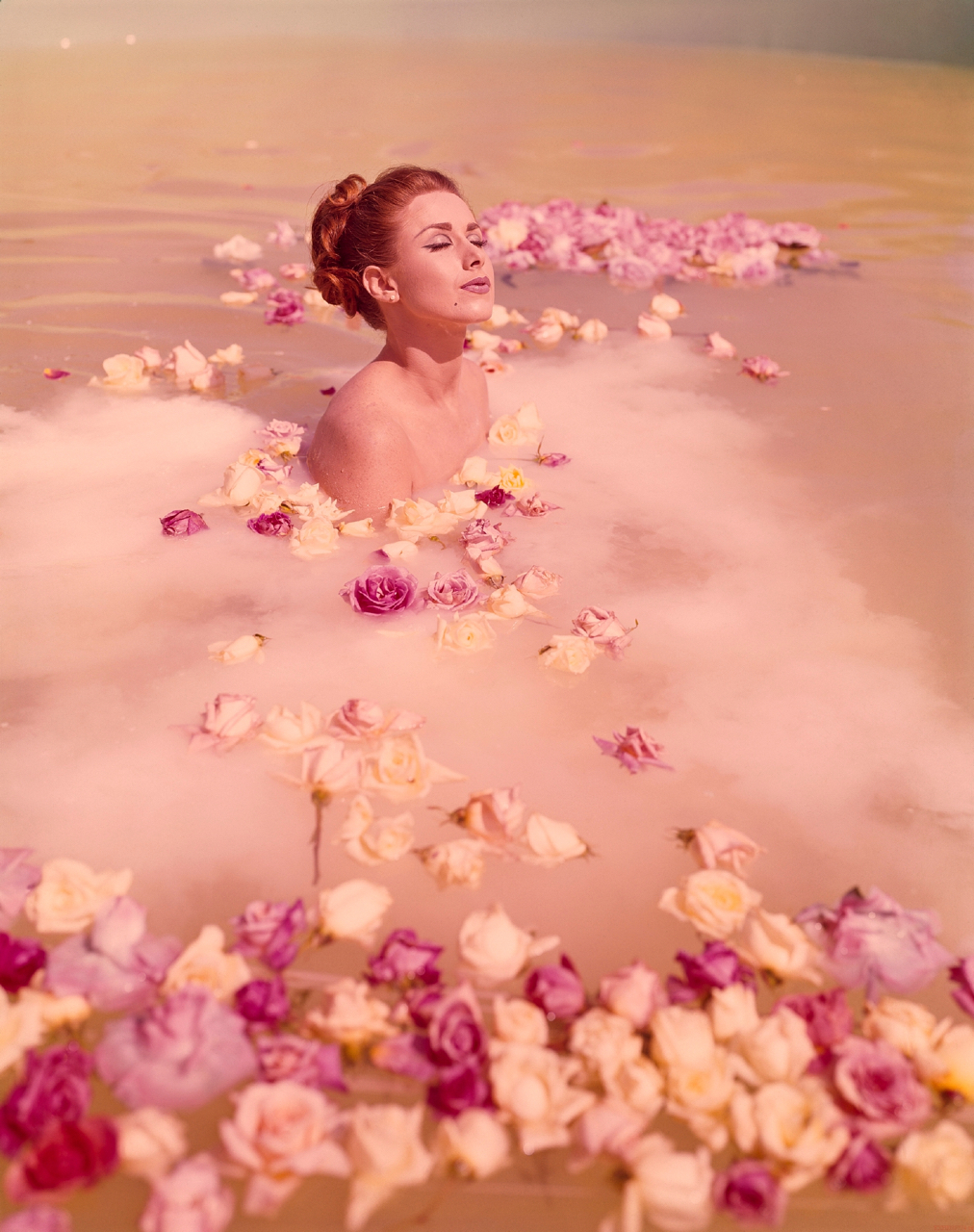 There are hosiery shots for Prestige, Hilton and Kayser, cigarette advertisements for Kent and Viscount, colour shots for Ford and General Motors Holden (GMH) and many colour photos for fabric and fibre industries, including Tissus Michels, Everglaze, Dupont, British Nylon Spinners [Fibremakers], Ban-Lon, Orlon and the Australian Wool Board.
Despite the plethora of colour in publicity and publishing during this period, colour film remained relatively scarce and expensive, and large-format colour film was only used when clients insisted. The Talbot archive contains a number of these glorious large-format colour transparencies, including one depicting a vivid red tomato and glass of tomato juice, probably shot for Heinz. There are also numerous slightly smaller large-format colour transparencies, including a 4 x 5 inch shot of a model wearing a short green and gold Magg of Melbourne coat and evening dress with pleated bodice and contrasting cumberbund against a glistening, metallic gold foil backdrop. The image was taken for the cover of the 1959–60 spring–summer issue of Australian Fashion and Beauty magazine and was praised at the time for its patriotic air of luxury.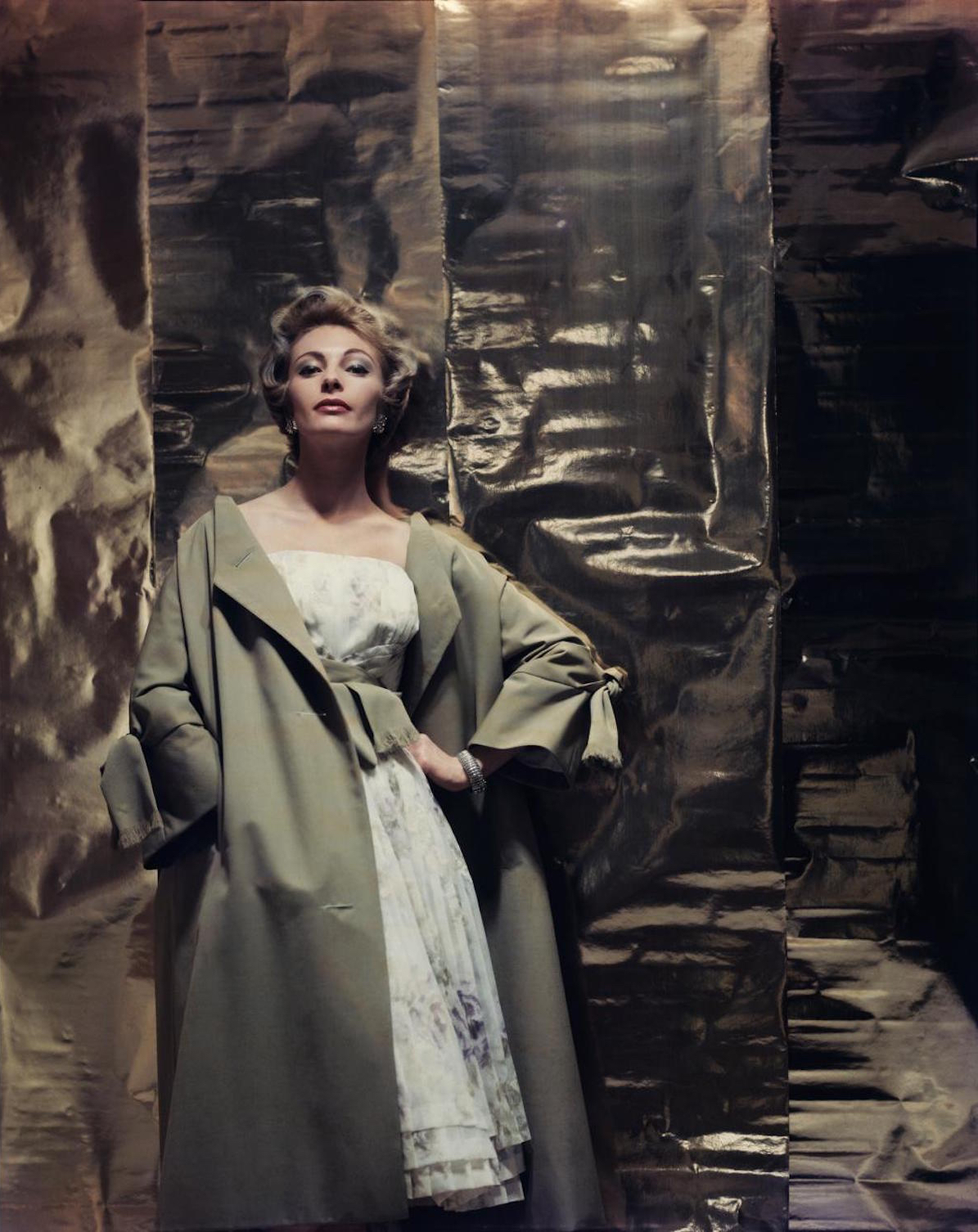 By 1960 Talbot preferred 120-format colour film, as it was cheap and easy to use and produced charming high fidelity 6 x 6 cm square transparencies. While he enjoyed using different light filters for special effects, Talbot liked to keep his lighting simple. On location he would rely on natural light, undertaking location shots at dawn or dusk to minimise glare. Sometimes the sky, a sandy beach or painted wall provided a source of reflected light; only occasionally did he need to take along a tinfoil reflector to lighten-up dark shadows.7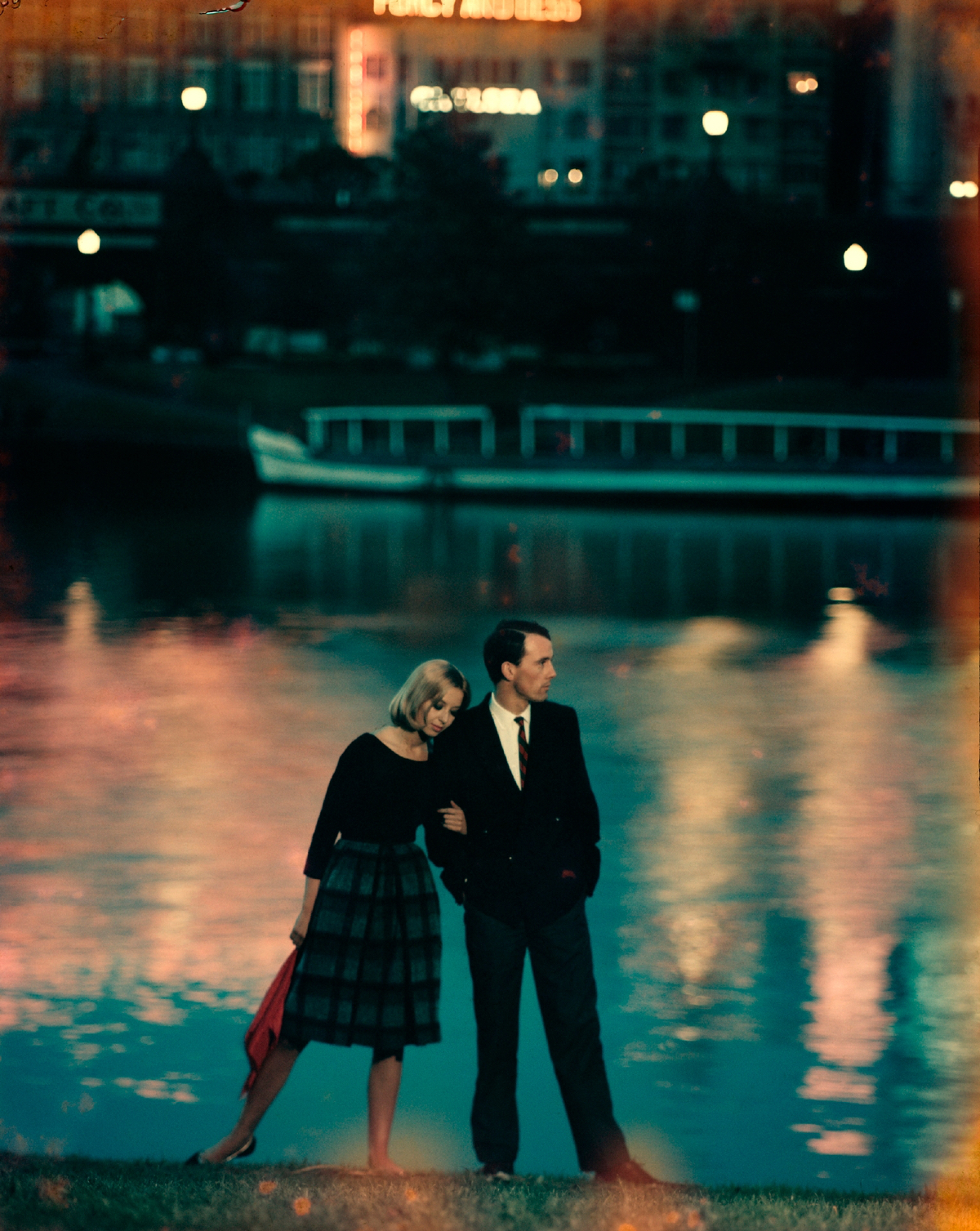 Sporadically, Talbot and fellow fashion photographer Helmut Newton liked to shoot colour on location at night, for dramatic effect:
I love to photograph at night. Often, when I've been on trips and have been confronted with locations that disappoint me, I chose to photograph them at night. Everything becomes more mysterious, and all the ugliness is hidden.8
Talbot's shot of a Hong Kong rickshaw is a good example. Another is his 1961 series for Sportscraft where the Melbourne skyline is seen in the background, lights reflect off the water in mid-ground, and models stand in the foreground, seemingly illuminated by the moonlight.
In the 1960s mini-shifts launched onto the scene, and photographers relished the demise of the static poses and obligatory hat and gloves accessories of the 1950s. Exposed legs and a youth-oriented sense of fun and fashion had everyone excited. Talbot keenly watched what the great fashion photographers were doing overseas, but tried to avoid slavishly copying their style:
Richard Avedon, Irving Penn, Bert Stern and people like David Bailey were people whose work I studied but tried not to copy. I tried to let a personal approach evolve. I naturally looked to Helmet Newton, as I learnt the basics from him, but later I tried not to imitate his style of work.9
The '60s was an era when photographers went beserk – models flying through the Paris sky in plastic bubbles, dangling from helicopters, or entwined in a snake. Avedon went so far as to photograph a society beauty naked to the waist. Anything that created excitement was good. Not so much concern for the clothes.10
Some of Talbot's best work was produced during this decade: Maglia advertisments with models in brightly coloured, pure wool, striped jersey shift dresses; a Bri-Nylon Giggles Holeproof Pantyhose packaging shot featuring a model riding a Norton motorcycle side-saddle; and the shot of Penny Pardey in Paris. Flair magazine revealed how Pardey came to be working in Paris at that time:
We were thrilled when Pierre Cardin selected two of Flair's favourite models to invite back to Paris to model for him: they were Judith O'Connell, whom you saw on our March cover, and Penny Pardey, who was Cover Girl last November [1966] … They're what Frenchmen regard as 'typically Australian', and were chosen to make a contrast to the petite European and Asiatic girls already working for Cardin.11
Talbot thrived in the 1960s, and his reputation flourished.
When General Motors Holden (GMH) released the compact two-door, four-cylinder Torana in 1967 they wanted to appeal to a younger audience. Talbot was chosen as the photographer for Torana's 'Great Escape' campaign, which advertised the sleek SL Super Luxury Torana as 'a low-slung streamlined beauty' with 'thickly padded bucket seats in the front' and endless opportunities for fun.12 It was so successful that Talbot continued GMH photography for George Patterson advertising agency until he retired. One remarkable shot for the 'Out to Drive you Wild' Monaro GTS campaign of 1968 shows a model in slinky white body-hugging catsuit and silver shoes stepping out at night in a dazzlingly bright 'Warwick yellow' (colour exclusive to GMH) Monaro. Published as a deluxe, double-page spread in the Monaro GTS campaign brochure,13 this shot was taken in the studio using extremely bright lights against a black background around the time Henry was working with visiting American automobile photographers from Boulevard Photographic Inc. The following year, a completely different approach was taken to automobile photography, with Henry going outdoors in an endeavour to capture a sense of speed when shooting GMH's HT Kingswood campaign.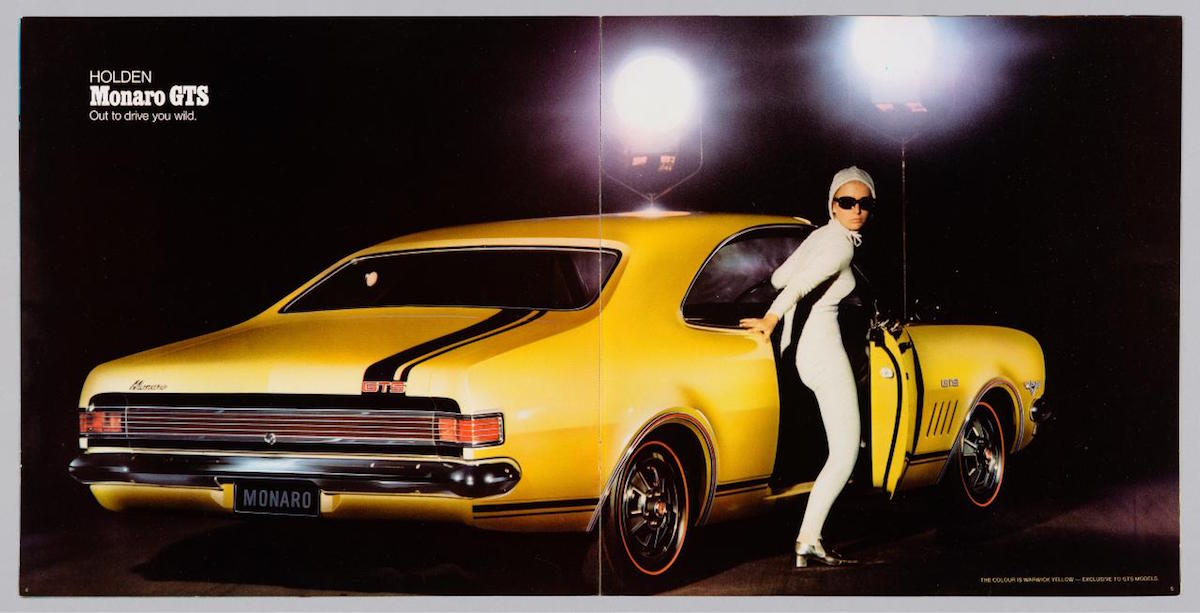 Talbot became something of a celebrity photographer in the 1960s. In a waggish sort of way, he appears to have courted sartorial attention. A Kayser International promotional flyer of 1960 features four portraits of him in dark sunglasses, cigarette in mouth, looking down into his new TLR Rolleiflex camera.14 New Idea's 'IN page' with AnnaMaria shows him and partygoers at the 'Sgt. Henry workers' vodka party', where Talbot's described as a trendsetter, a manufacturer of controversy and a 'fun-maker'.15 Flair's 'Faces behind fashion' column of March 1966 features a debonair Talbot with moustache, glasses and, once again, cigarette in cigarette holder.16 The invitation to A Walk Through Henry Talbot's Head at Gallery A, South Yarra, in October 1968 features a blow-up of the photographer's head, which you had to walk through to enter the exhibition.17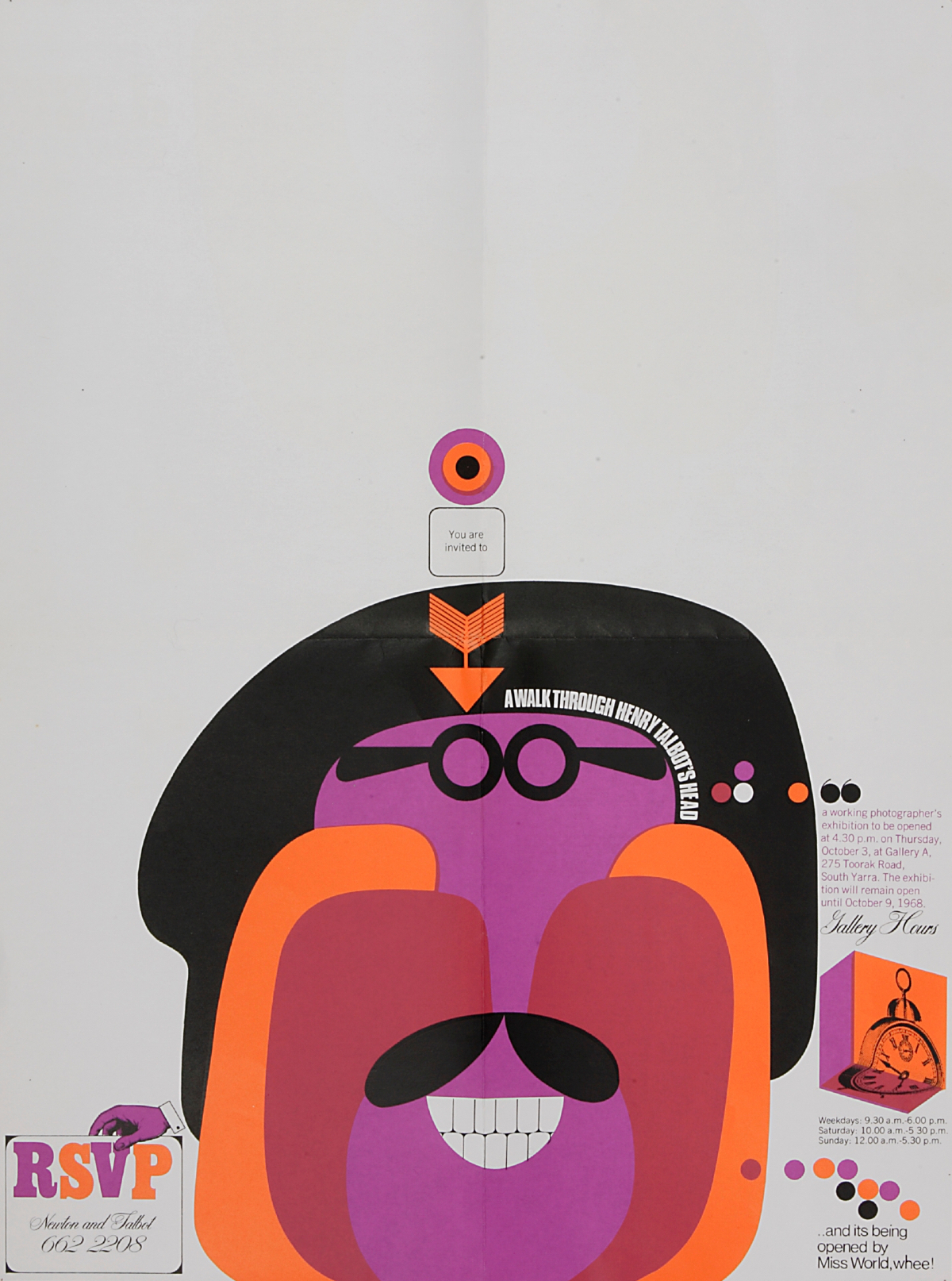 In 1968, in one of many shots Talbot took for Maglia knitwear advertisements art-directed by Ian Blain of the George Patterson advertising agency, the photographer is seated amidst 'rebel-rousing' models dressed as 'Shifty Characters in stick-em-up stripes'.18 Talbot is anonymous (sort of), dressed complicitly as a 'great revolutionary Dictator'. A gun-toting henchman stands behind him in a trench coat as his bodyguard. The photograph is titled the 'Brazilian Revolutionary Group', and the copy reads, 'Even the greatest dictators lose their heads when the Shifty Characters flash their stripes!'19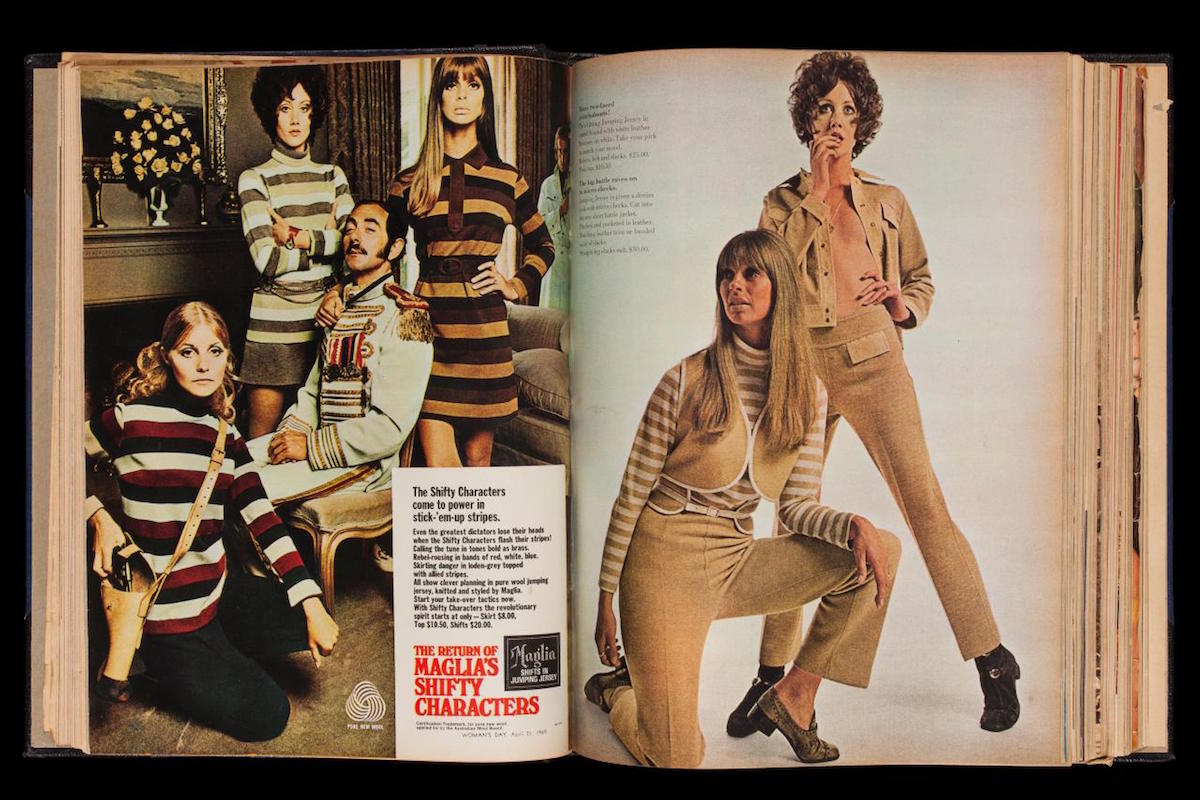 Talbot lived and breathed the mood and atmosphere of the times, and his celebrity status continued unabated throughout the decade. In 1969 a group of creatives proposed a new glossy, psychedelic magazine titled AURA. Talbot was tagged as its photographer, and art direction and design was to be handled by Frank Eidlitz. A mock-up for this 'Age Publication', presents a Kurt Veld portrait of Talbot sitting cross-legged in a meditation position, hands making a mudra gesture, with a camera slung around his neck.20 When queried about his unconventional sense of dress, Talbot responded:
Just now the 'mods' are terribly 'in'. The younger generation is very strong in fashion. They're spending a great deal of money … so fashion is geared to the young. As a photographer you must accept this idea … and that probably reflects to some extent in your behaviour and dress. You could certainly be just as good a photographer if you dressed like a banker, yet at the same time you would be hiding yourself … rather than joining in the excitement of the fashion world, the one which you are trying to portray.21
Interviews provide further clues about the man and his fashion sense: 'I like jumpers and wear them all the time. I hate wearing collars and ties – you can't get enough freedom of action when you're working'.22
Talbot undertook many international assignments in the 1960s. Casual attire would have been very comfortable. In Paris he met many great photographers of the day. In London he watched the beginnings of the English mod-gear craze. In 1960 he and models Janice Wakely and Helen Homewood flew round the world (Hong Kong, Bangkok, New Delhi, London and New York) for fashion editorials by Faye Patience ('West meets East' and 'Fashion flight: arrival in Siam') – promotions for Everglaze and Ban-Lon fabrics. Leading Australian couturiers (Hall Ludlow, Norma Tullo, Sharene, Saba and Oriana) were invited to create designs for each fabric with 'a world flight in mind'.23 Talbot's famous rickshaw shot, featuring a Hall Ludlow gown, was taken during this trip.
In 1964 Talbot, Wakely and Homewood set off on another world tour, this time for Vogue Australia editor Shiela Scotter. The trip was sponsored by Kayser International, Qantas, Lady Pelaco (tailored blouses in riotous colours) and Fletcher Jones ('kicky' box-pleat skirts), and resulted in a six-page advertisement titled 'Fashion goes forth to conquer the world'. Talbot's innovative shots capture the models in Taiwan, Hong Kong, India, Greece, London and at the New York World's Fair. Kayser hosiery was promoted as perfect for 'the hot hazy days of a summer stepping around the world'.24
Talbot's Kent cigarettes assignment took him around the world again in 1965, on an open invitation to photograph Kent smokers with the 'World as a backdrop' for the launch of the product into the Australian market. As equipment Talbot apparently took only a Hasselblad outfit and a tiny Braun F25 flash unit for emergency lighting, and chose his models in each location as he travelled (Singapore, Thailand, United States, Jamaica, Greece, Spain, Austria, Holland, Italy, Switzerland, England and France).25 His Viscount cigarette advertisements, shot slightly earlier, today remind us of the sets of the Mad Men television series. After quitting smoking, Talbot took on no further cigarette advertising assignments.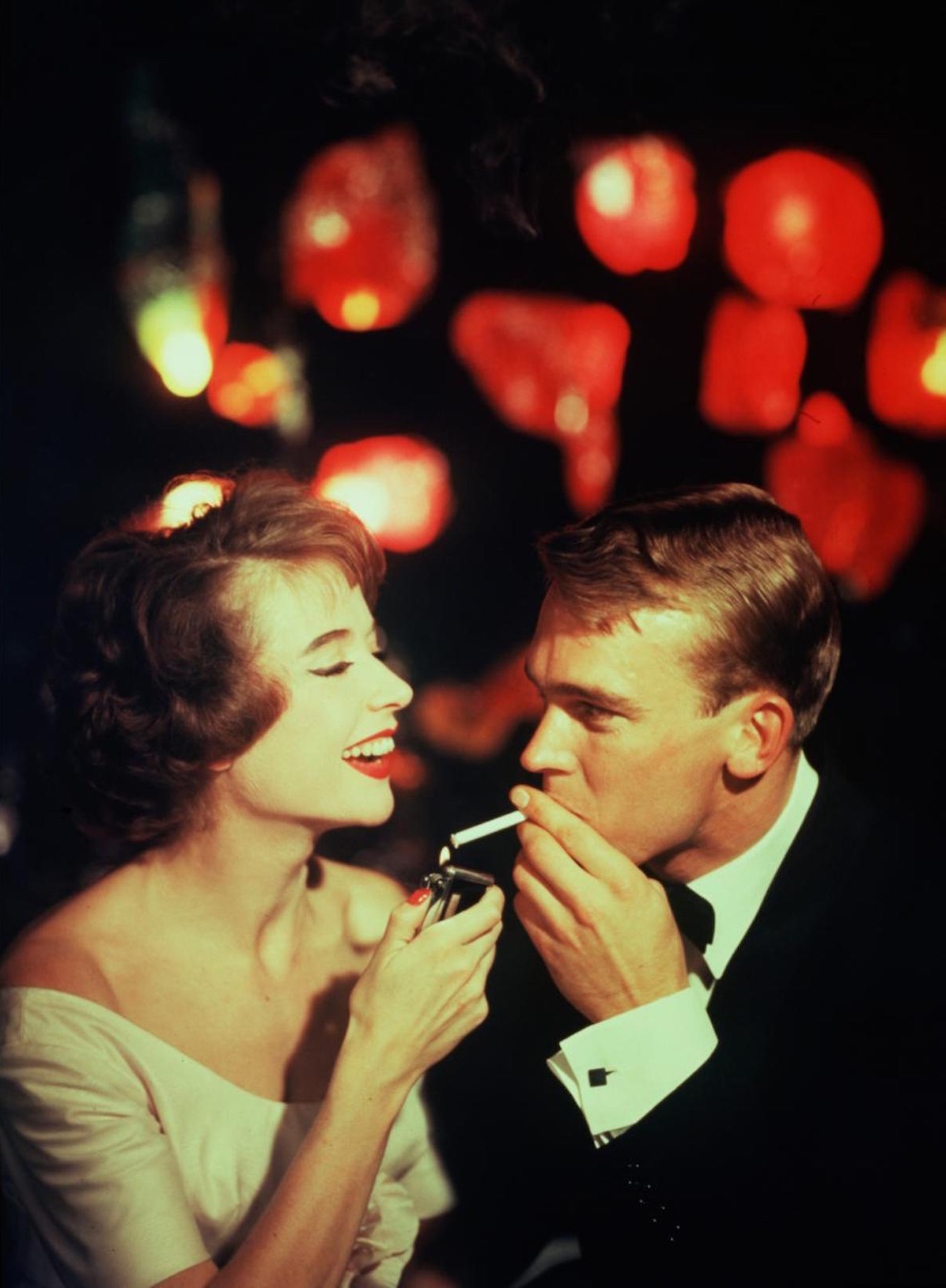 Talbot died in 1999 after a long battle with cancer. His enduring sense of fun and wit survived to the end. Talbot's personal nonchalance belied his technical virtuosity; his meticulous compositions seemingly anomalous with his carefree spirit. Luckily he helped preserve important black-and-white and colour photographs before he passed away. In his obituary for Talbot, Sydney Morning Herald photography critic Robert McFarlane pointed out that he was modest about his achievements as a photographer, and quoted Talbot as saying:
I have taken some pictures in the past sixty years which people might enjoy looking at, and relive, perhaps, the feeling, I had when I took the picture.26
Notes
1. Henry Talbot, unpublished interview with the author, 1995.
2. Shortly after revisiting the places of his youth in Europe, Henry Talbot passed away in 1999. At the time he was writing an autobiography. His manuscript is visually evocative, narrated through the lens of an older man recalling how he saw the world as a child and young man visualising; for example: the skin of a Great Dane (with his head stuffed) on the floor of his grandfather's living room and the changing window displays of his parent's sweet shop in the Bahnhofstrasse, Hindenburg.
3. This photograph survives in the Talbot archive as a print and original colour transparency. It was first published as a small, grainy image across the centre binding of Faye Patience, 'West meets East', Woman's Day with Woman, 27 June 1960, p. 48.
4. Talbot loved working with models, and always tried to avoid showing them in 'stiff modelly' poses. Many, like Janice Wakely, remained lifelong friends. Talbot held that if the photographer could develop an emotional rapport with a model he was halfway toward producing good photographs. His favourite method of working was to explain roughly what he was after, then leave the model more or less free to interpret the garment she was to show.
5. The Museum of Applied Arts and Sciences (MAAS) Collection includes a selection of Talbot's early commercial art, such as layout designs, illustrations, typography, stationery and letterheads, bookplates, labels, packaging and counter display cards. These works reveal his early modernist intentions. Photographs by Talbot are also held in the collections of the National Gallery of Australia, Canberra; the National Gallery of Victoria, Melbourne; State Library of New South Wales, Sydney; and the State Library of Victoria, Melbourne.
6. A group of transparencies, prints and tear sheets was acquired in 1992; a large archival collection in 1993; Ford and General Motors Holden (GMH) colour photographs in 1996; and the final colour transparencies received as a gift from the Henry Talbot Estate in 2008, following Talbot's death.
7. Talbot quoted in Gene Verstraeten, 'Henry Talbot: a profile', Australian Photography, 11 Dec. 1966, p. 24.
8. Helmut Newton, Autobiography, Gerald Duckworth and Co. Ltd, London, 2003, pp. 236–37.
9. Talbot, unpublished interview with the author, 1995.
10. Talbot quoted in Deborah Thomas, Henry Talbot: Photographing Pretty Ladies, Crowd, no. 2, Jan. 1984, p. 27
11. 'Talk about Flair', Flair, June 1967, pp. 55, 64.
12. 'All New Holden Torana' brochure, 1967. MAAS collection: item no. 93/246/1–2/16.
13. 'Monaro by Holden' brochure, 1968. MAAS collection: item no. 93/246/1–2/18.
14. Flyer associated with Vogue Australia, Sep. 1964. MAAS collection: item no. 93/246/1–1/8.
15. AnnaMaria, 'InPage', New Idea, 27 Jan. 1968, p. 16.
16. 'Faces behind fashion', Flair, March 1966, p. 28.
17. Poster designed by Bruce Weatherhead. MAAS collection: item no. 92/1256‑1/12.
18. Brochure published by Regal Press, Launceston, 1968. MAAS collection: 93/246/1–2/6.
19. Maglia advertisement, Woman's Day with Woman, 21 April 1969.
20. A mock–up of AURA can be found in MAAS's Henry Talbot archive: item no. 93/246/1–1/33.
21. Talbot quoted in Verstaeten, p. 21.
22. Sally Baker, 'Six photographers pick their favourite fashions', Woman's Day, 13 June 1968, p. 8. (Not surprisingly, Henry chose a bright purple jumper.)
23. Faye Patience, 'West meets East', Woman's Day with Woman, 27 June 1960, pp. 48–9; Faye Patience, 'Fashion flight: arrival in Siam', Woman's Day with Woman, 4 July 1960, pp. 50–1.
24. Sheila Scotter, 'Fashion goes forth to conquer the world', Vogue Australia, Sep. 1964, pp. 63–70.
25. Talbot quoted in Verstaeten, pp. 22–3.
26. Robert McFarlane, 'Henry Talbot – photographer 1920–1999', obituary, Sydney Morning Herald, 28 Jan. 1999, p. 27.