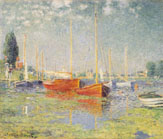 Claude Monet
Argenteuil, 1875
Oil on canvas
56.0 x 67.0cm
Musée de l'Orangerie, Paris
© Photo RMN - J.G. Berizzi
Monet grew up in Le Havre where, in 1858, he met Eugène Boudin who encouraged him to paint from nature, en plein air (out of doors). The following year Monet met Camille Pissarro and Paul Cézanne while studying at the Académie Suisse in Paris. After military service in Algiers he returned to study in Paris in the studio of Charles Gleyre, and met Pierre-Auguste Renoir, Alfred Sisley and Jean-Frédéric Bazille, with whom he painted at Chailly, near Fontainebleau. In the late 1860s Monet and Renoir worked together and produced the first pure Impressionist paintings, the best known of which is Monet's Impression: Sunrise 1872, the painting that gave the Impressionists their name. In 1883 Monet settled in Giverny where he created a remarkable garden that was to be the subject of his last great series of works, culminating in the panoramic series of paintings Nymphéas (Water Lilies), housed in the Musée de l'Orangerie in Paris.