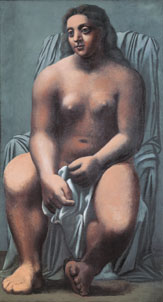 Pablo Picasso
Large Bather, 1921
Oil on canvas
182.0 x 101.5cm
Musée de l'Orangerie, Paris
© Photo RMN ­ C. Jean
© Pablo Picasso,
1921/Succession Pablo Picasso.
Licensed by VISCOPY, Sydney 2001
Picasso came to be the dominant influence on the art of the first half of the twentieth century. He was born in Spain, the son of a painter and teacher of art. Moving to Paris in 1901, he settled in Montmartre in the run-down warren of artists' studios in the tenement building known as the Bateau-Lavoir, where he met many young artists and writers destined for greatness. He was astonishingly prolific in his output as a painter, theatre designer, printmaker, draughtsman and sculptor and he disdained any settled, consistent style. His work passed through a succession of 'periods' and he sometimes juggled several styles simultaneously – as in the 1920s, when paintings in a neoclassical style appeared alongside his Cubist works.