Article
The Pink House
BY Ayla Hibri
THEME LEADER Meitha Al Mazrooei
SUPPORTED BY University of Melbourne, as part of the NGV Triennial – exploring the emerging intersections of art, design, science and society.
Photographer and activist Ayla Hibri's short story about an uncommon encounter between two strangers, and her fascination with the colour pink.
---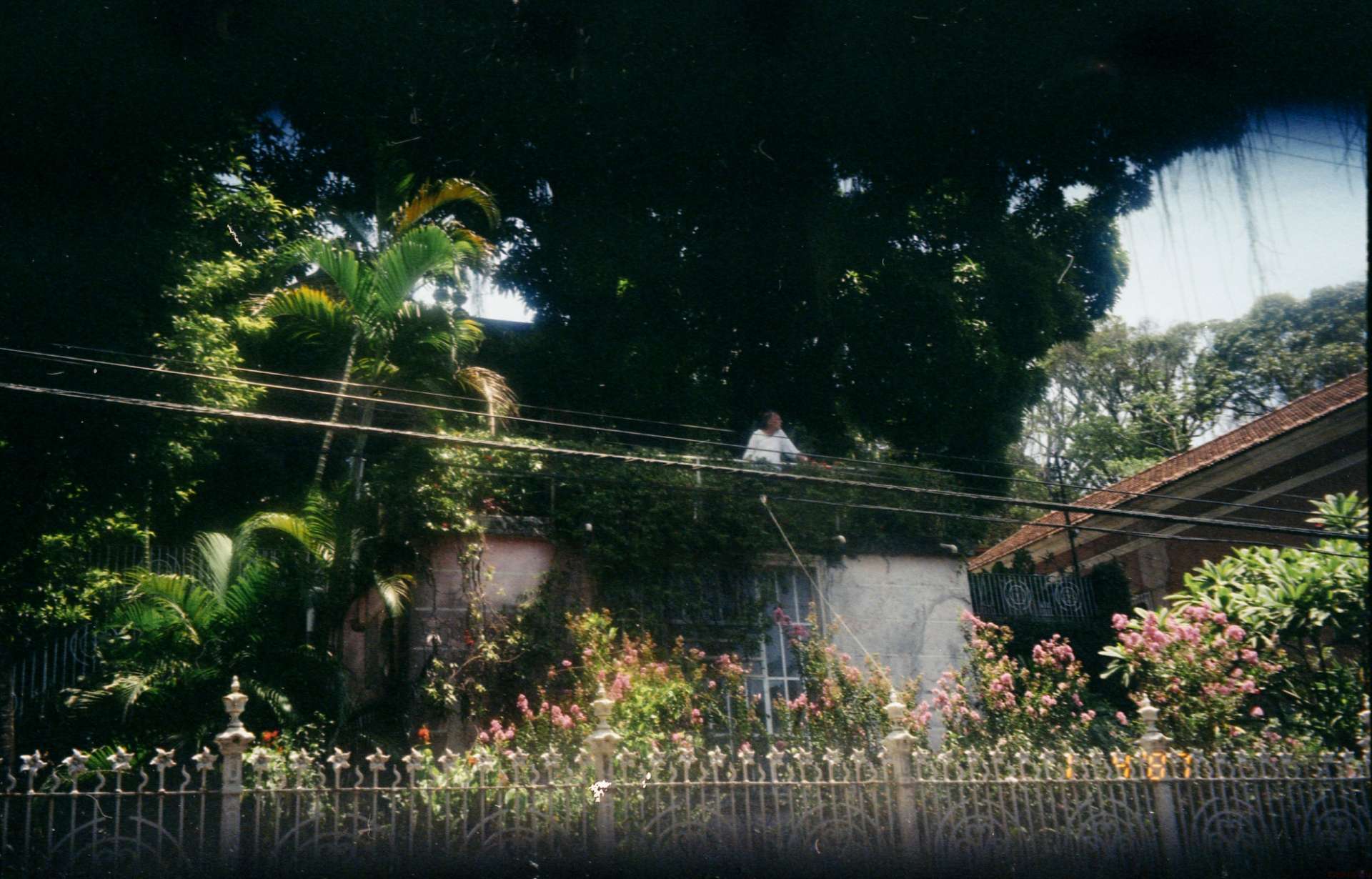 The day is hot. I'm sweating. Dehydrated because beer has replaced water, rum has replaced beer. Everyone around me is on their high, singing and dancing in outrageous and glorious gowns.
The city floor swims in glitter. Euphoria, to the knees.
I pick a quiet spot, leaning against the wall, passing curious time between sending a text message and a strange feeling I have of vanishing. I feel invisible, I tell my friend, but there's no reply.
Facing me is a pink house, with a man watching madness collect on the street below. I take a photograph because, just like me, he is invisible. Not to mention the house is pink, and in my mind's eye the colour pink is not to be taken for granted.
Moments later I notice him descending the stairs. He opens the gate. Our eyes meet. He walks in my direction. My heartbeat implodes. Did he notice?
'Hello', he says.
'Hello.'
Then he says something in Portuguese.
'I'm sorry', I say. 'I don't speak Portuguese'.
'Oh', he says. 'Is everything okay? You look sad'.
'Oh no', I say. 'I'm not sad. Just overwhelmed by the chaos'.
Silence passes between us, almost like we are old friends, who after chatting for a while discover their bond in silence. As he stands there I gaze over his shoulder to the pink house behind him, the house from where he came.
'You have a beautiful house', I say.
'Thank you.'
Again, silence. Brief, pungent silence, before he finally asks, 'Do you want to come and see it?'
'Oh no', I answer, speaking without reading my thoughts, speaking from a place of fear. 'It's okay. I'm good. Thank you'.
'As you wish', he says, wishing me a pleasant day, smiling and walking away.
In those few seconds, watching him disappear back from where he came, I had to convince myself to run after him. The thoughts are to be expected. He's a bit weird. Don't talk to strangers. Am I weird? I'm curious. This is how the horror starts. But it's a pink house! He's harmless. He's old and frail. I can defend myself. Have faith, I tell myself. I run after him.
Catching up to him, I ask if the offer still stands.
'Sure', he says. 'Come in'.
He lets me guide the way, walking behind. I walk up the stairs. What if he has a gun? I can hear my heart racing.
We stand in front of the fountain where he had been standing when I took the photo.
'I hate Carnival', he says, as we watch the crowd below. 'Everyone is so neurotic'.
'What do you do?' I ask.
'I'm a psychiatrist. I deal with the mentally ill.'
'I'm a photographer', I say. 'Do you mind if I take a photo of you?'
'No.'
He stands in front of the fountain and I take a photo. I realise my hands are shaking.
'Do you want to come in?'
I answer, hesitantly, that I would like to, yes, that I want to see the house.
He leads the way. Now I walk behind him.
A surge of blood rushes to my head.
Everything is pink. Time hasn't passed even though the furniture is deteriorating. The aura of golden glory days still lingers in every corner of the house. It can't have been real. I can't believe my eyes. I am terrified, I am mind-blown. The distinct emotions feed off each other.
'Do you mind if I take photos?'
'No. I don't care.'
I start snapping. I'm not even looking through the viewfinder. I just try to snap as discreetly as possible. I don't want to get on his nerves. But fuck, there's flash.
The house is a mess. As though a dozen others live there.
'Does anybody else live with you?'
'Yes', he says. 'I rent rooms to cover the costs of the house. My daughter also lives here. She should be here soon'.
Relief.
He could by lying, though, about the daughter.
But he's not lying. We're trained to mistrust strangers who are old and alone and walk with a sort of hitch. But the man is pure. He walks me into every single room of the house. Including the bathrooms. He even opens the curtains of the bathtub to show me. Maybe as a gesture of thanks, for showing such interest. Or he doesn't quite know what I want to capture, so he's giving me it all.
Plates with neatly discarded food. Clothes scrapped on the floor. A bra hanging from a bed. Ashtrays filled with cigarettes. Books. Lots and lots of books. A huge record collection. He seems oblivious to the mess.
I forget my camera, focusing on the shades of pink. A dog barks somewhere in the house. My heart skips a beat.
'I have to feed the dog', he says.
We're upstairs now.
He pours dog food onto a plate and opens the kitchen door. The dog is huge.
I want to excuse myself. 'I should leave', I say. 'I'm supposed to meet my friends soon'.
I don't know why I say it but I do, whether or not there are friends I've forgotten, what my plans were, what they are, it's gone. I don't want him to feel my fear, I don't want to hurt him.
'Okay', he says.
We start making our way out.
'I just want to show you one more thing', he says.
A lump grows in my throat.
We go down, back out to the fountain, down the stairs and to a door on the left. He opens the door and we enter a room. Obviously, it's pink. There is a big window with lace curtains. The light is beautiful.
'You really like pink', I say, realising that I'm admitting what I'm seeing for the first time.
'Yes', he says. 'My mother loved that colour. An artist who lived here at some point built the window this high because he liked to paint nude models. He gets the light but no one could see what was happening inside'.
'It's magical', I say.
I look around one last time to absorb it all. I take three haphazard photos before making my way to the door, the herald following behind me.
We're back outside, making our way down the stairs. He stops at a little pond, pointing to a water lily. Finally, we're at the gate.
'Thank you', I say, 'I will never forget your house'. I know it comes out short and strong but it's the truth, and I think he knows it.
Holding my stare he says, with a smile of his own, 'Now you have a smile on your face'.
I do. I did.
I wave goodbye. I thank him again, gesturing with my eyes. I close the gate behind me. I walk, faster and faster until I'm running. I cry. Tears of joy, of excitement, relief.
I wonder if I'll ever see that house again. The tranquil presence of the man. His pensive eyes.
BIO Ayla Hibri is a photographer and activist from Beirut, Lebanon.


Image
The Pink House, Beirut, Lebanon