Napoleon: Revolution to Empire
Audio Guide
Enjoy a personal journey of the exhibition with the audio guide providing an additional and compelling insight into the events, the emotions and the relationships of Napoleon and those closest to him. Narrated by leading Australian actor Rachael Blake (star of
Lantana
,
Wildside
, and as Hazel Hawke in
Hawke
), the private world of Napoleon and Josephine is brought to life.
For the first time, the audio guide is available in Auslan sign language and with captions.
Exhibition floor plan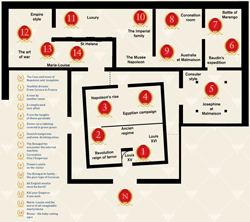 Hire the device
For your convenience the audio guide together with additional tracks in French and supplementary historical information is available for hire when you purchase exhibition tickets.
$8/7 concession
Audio tracks spoken in French
Listen in French to experience the flavour of France and enter the passionate world of Josephine from the Revolution to the end of her life in Malmaison.
The Life of Josephine (French)
.
Available in Auslan and captions
A notable first for the NGV, the information conveyed in the audio guide will be accessible to people who are Deaf and hearing impaired. This initiative has been made possible through collaboration with the Australian Communication Exchange (ACE), a national not-for-profit organisation dedicated to making important educational and cultural experiences like this accessible.
NGV is delighted to be engaged with the team at ACE who is promoting this accessible guide to their communities, particularly in Melbourne.
The audio guide is also available for download free on ACE's Smart Auslan app from the iPhone and Android app stores.
Acknowledgements
The National Gallery of Victoria would like to thank:
From Fondation Napoléon:
Thierry Lentz
Directeur
Peter Hicks
Chargé d'Affaires Internationales
Karine Huguenaud

Chargée des Collections
 
From Alliance Française, Melbourne:
Gilbert Ducasse
President
Saliha Lefevre
Director
Alice Gauny
Deputy Director and Head of Education
and
Phip Murray
Script Research and Development
Rachael Blake
Narrator