All programs & events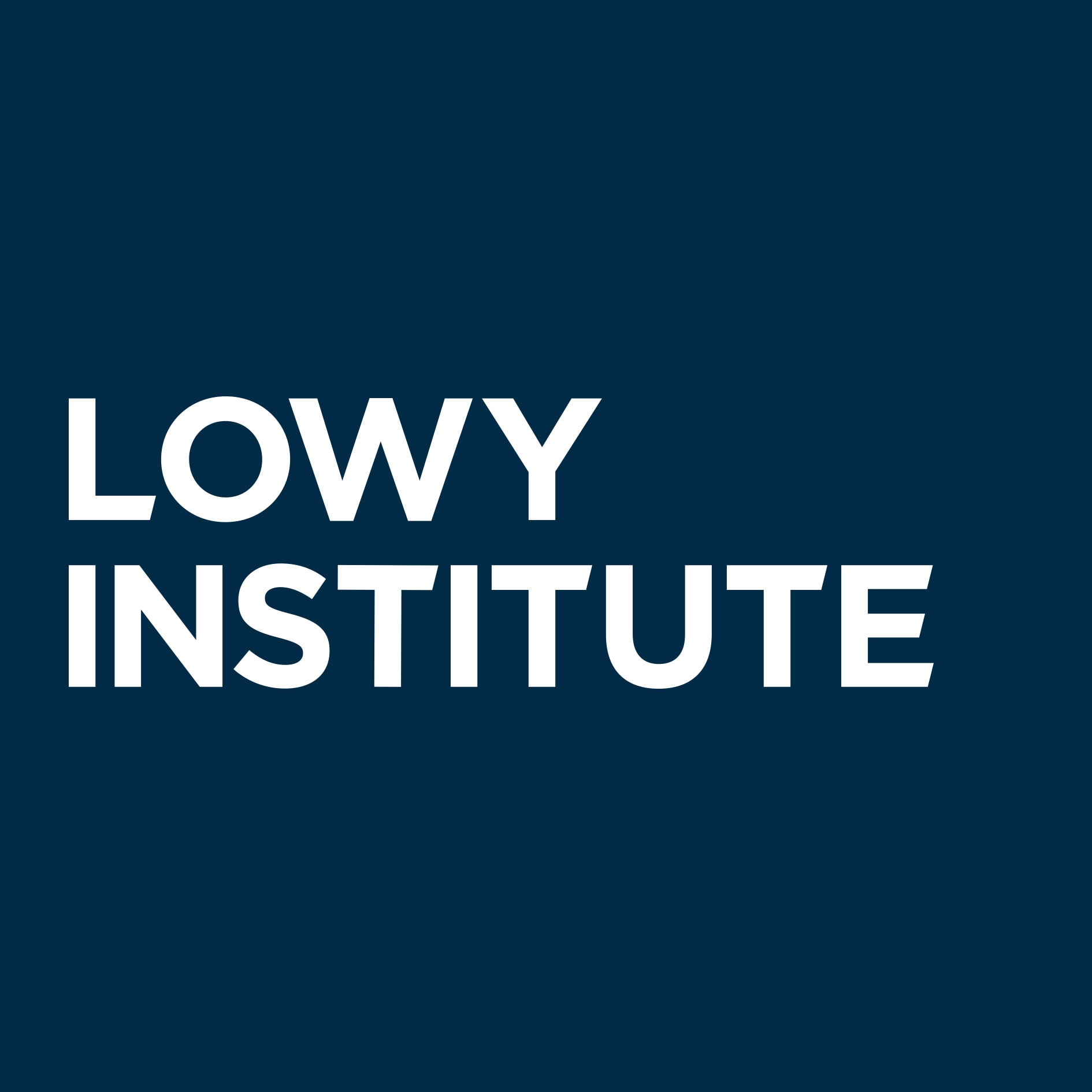 Lowy Institute at NGV

Presented as part of NGV Triennial
NGV International
Clemenger BBDO Auditorium
Ground Level
Tue 19 Dec, 6.15–7.15pm

(Past)
China is a rapidly ageing country. According to the World Bank, the working-age population is predicted to fall by 10% by 2040. While the size of the workforce is falling, the pool of over 65s is rising, and is predicted to reach 350 million by the same year.
What are the economic effects of a shrinking labour pool and rising number of aged dependents, and how will the two-child policy limit these effects? The Lowy Institute will convene a panel to explore how population dynamics will shape China's economy and what it means for our economic future at large.
Moderator
Dr Merriden Varrall is Director, East Asia Program at the Lowy Institute. Before joining the Lowy Institute Merriden was the Assistant Country Director and Senior Policy Advisor at UNDP China, where she worked for the past three years on China's role in the world, focusing on its international development cooperation policy. Merriden has spent almost eight years living and working in China, including lecturing in foreign policy at the China Foreign Affairs University and conducting fieldwork for her doctoral research. Prior to that she worked for the Australian Treasury. Merriden has a PhD in political anthropology from Macquarie University, Sydney, and the Vrije Universiteit, Amsterdam. Her dissertation examined the ideational factors behind China's foreign policy. She has a Masters Degree in International Affairs from the Australian National University, and completed her undergraduate studies at the University of Technology Sydney.
Panelist
Dr Bingqin Li is Associate Professor at UNSW, Sydney. Her research focuses on social policy and governance, and current projects include: governance of age-friendly community, local government motivation in delivering complex social programs, social inclusion and integration, urban governance, and social spending. She has particular expertise on China, and works also on other countries in Asia, and on comparative studies of policies between Asia and the West. Her research has been published in academic journals in urban studies and social policy, such as Urban Studies, Environment & Urbanisation, Social Policy & Administration and Public Administration and Development.
Bingqin Li has played an important role in introducing international social policy research to China, through editing two series of translated series of key texts. Bingqin has also consulted international organisations, such as the World Bank, European Union, the WHO, UNESCAP, IIED, and the DFID. She has also collaborative research relationship with UNRISD, top Chinese universities and think tanks such as DRC and CASS in China.
Mon 29 Jan, 6.15–7.15pm

(Past)
From campaign trails to boardrooms, the Lowy Institute's Aus-PNG Network invites women leaders and gender equality experts to share what it takes for women to reach leadership positions in these neighbouring but very different countries.
Moderator Anna Kirk is a Research Fellow and the Project Director of the Aus-PNG Network at the Lowy Institute, where her work focuses on Australia's relations with Papua New Guinea and the Pacific Islands. Anna holds a Bachelor of International Studies from the University of Queensland, with majors in Peace and Conflict Studies and Spanish. Anna grew up in Port Vila, Vanuatu. During her undergraduate degree she spent a semester studying Spanish language at the Universitat Pompeu Fabra in Barcelona. In 2013, Anna spent six months teaching English in Santiago, Chile.
Panellists
Ann Sherry is one of Australia's leading business executives with a career that spans Government, Banking and Cruise Tourism. She is currently the Chairman of Carnival Australia, the largest cruise ship operator in Australasia. As CEO of Westpac New Zealand and Pacific and CEO of Bank of Melbourne she was responsible for driving the corporate sustainability and diversity agenda. The Australian Government awarded Ann the Centenary Medal in 2001 and in 2004 she was awarded an Order of Australia. In 2015, Ann was named as the overall winner of the Australian Financial Review 100 Women of Influence Award.
Kerryn Baker is a Research Fellow in Pacific Politics with the Department of Pacific Affairs at ANU. Her research focus is on women's political representation. She has conducted research on legislative measures to increase women's representation, as well as the campaign strategies of women candidates in elections, in Papua New Guinea, Solomon Islands, Samoa, Tonga, and the French Pacific territories.
Rufina Peter stood for the Central Regional Seat in PNG's 2017 National Election. She was the highest polling female candidate receiving 33,221 votes, which saw her come in third. She has had a long career in PNG's public service and holds a Master of Agricultural Economics from the University of New England in Australia and a Graduate Diploma in Business Studies from Massey University in New Zealand.
Tue 20 Feb, 6.15–7.15pm

(Past)
The Lowy Institute has conducted robust, independent polling on Australian attitudes to foreign policy issues annually since 2005. While the world has changed dramatically this century, how have Australian attitudes changed, and what has stayed the same?
Moderator
Alex Oliver is Director of the Diplomacy and Public Opinion Program at the Lowy Institute. She is responsible for the Lowy Institute's program on public opinion and foreign policy, including the annual Lowy Institute Poll and other polling projects. Alex has published the last five Lowy Institute Polls as well as conducting several major studies for the Institute on Australia's diplomacy.
Panellists
Nick Bisley is the Executive Director of La Trobe Asia and Professor of International Relations at La Trobe University. Nick is currently the Editor-in-Chief of the Australian Journal of International Affairs, is a member of the Australian Institute of International Affairs national executive, the board of the Australia-India Institute and a member of the Council for Security and Cooperation in the Asia-Pacific. Nick is the author of many works on international relations, including Issues in 21st Century World Politics (2017), Great Powers in the Changing International Order (2012), and Building Asia's Security (2009). Nick regularly hosts Asia Rising, the podcast of La Trobe Asia which examines the news and events of Asia's states and societies.
Daniel Flitton is one of Australia's most senior foreign affairs journalists and is now Managing Editor of the Lowy Institute's international magazine, The Interpreter. Before joining the Institute, he was Senior Correspondent at The Age and formerly its diplomatic editor. He previously worked as an analyst for the Office of National Assessments, Australia's peak intelligence assessment agency. Daniel has held academic positions at the Australian National University and at Deakin University, where he developed a breadth of knowledge on Asia, the Middle East and the Pacific. As a Fulbright scholar in 2004, he researched the Australia-United States alliance while at Georgetown University in Washington DC.
Lydia Khalil is a Research Fellow at the Lowy Institute, focusing on Middle East politics, security, terrorism and counterinsurgency, policing and intelligence. She has been an international affairs fellow at the Council on Foreign Relations in New York, a political advisor for the US Department of Defense in Iraq, and most recently a senior policy advisor to the Boston Police Department, working on countering violent extremism, intelligence and counterterrorism, and community policing strategies. She has also worked as a senior counterterrorism and intelligence analyst for the New York Police Department.
Tue 13 Mar, 6.15–7.15pm

Shifting Power in Asia
Asia's economic transformation is reshaping the global distribution of power, changing the way the region and the world operates politically and strategically. The Lowy Institute discusses the growing wealth, influence and military might of new and reviving Asian powers
Moderator Herve Lemahieu, Lowy Institute Research Fellow
Wed 11 Apr, 6.15–7.15pm

International Relations in the Online Age
Terrorists are recruited via social media, nuclear weapons programs are disrupted via computer viruses, world leaders communicate via Twitter, and some foreign affairs departments have larger online followings than traditional media outlets. What will global politics become in this digital age?
Moderator Sam Roggeveen, Lowy Institute Director of Digital and Senior Fellow
Supported by program patrons Maureen Wheeler AO and Tony Wheeler AO.