When design curator Simone LeAmon contacted us on behalf of the NGV earlier this year, we were thrilled that the gallery was considering including Brightgreen LED lights as part of its diverse summer showcase. We have always prided ourselves on two things; our Australian heritage, and our long-life design engineering, and being invited to participate in Melbourne Now came as a wonderful testament to both of these attributes.
Originally founded in Perth in 2008, Brightgreen planted its Melbourne roots in the city's Collingwood suburb in 2009. Our main aim is to rid the world of planned obsolescence – the designing of products with deliberately short lifespans – starting with the lighting industry.
The BR1000 and BR450 bulbs exhibited in the show are designed to replace standard incandescent bulbs, emitting the same amount of light using a fraction of the energy. Our BR450 bulb's unique conical form was awarded a Melbourne Design Award in October – in terms of aesthetics and engineering it's one of our most progressive projects to date.
Melbourne Now has also proved a valuable platform for reflecting on the city's broader creative scene – a space for taking a step back and acknowledging the talent that lies right on our doorstep.
At Brightgreen, we're continuing to do what we can to enhance lives as well as to put Melbourne on the global design map. Our in-house think thank, the Brightgreen Ideahub recently launched Luto – a monitor-mounted LED smartlight that helps tackle eye strain and fatigue – via crowdfunding platform Kickstarter during the website's first week of expansion into the southern hemisphere. The light combines low-energy LEDs, smart sensor-based technology and custom software to create the perfect lighting environment for screen use. You can support us by pledging for your own Luto on Kickstarter here: http://www.kickstarter.com/projects/brightgreen/luto-smartlight-illumination-for-screen-environmen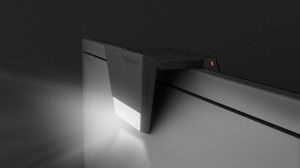 Brightgreen's BR450 and BR1000 energy-saving LED bulbs are exhibited as part of the Design Wall, at the Ian Potter Centre: NGV Australia, until 23 March 2014.
For more information on Brightgreen, visit Brightgreen.com.