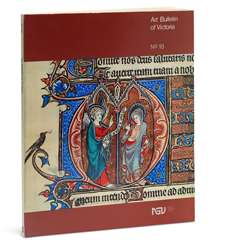 This issue of the Art Bulletin of Victoria 18 encompasses essays discussing works from a variety of areas across the NGV's collection:
Margaret Manion examines the illustrations in the marginalia of the Aspremont Hours, an illuminated manuscript that betrays the special interests of its patron, Joffroy d-Aspremont; Joseph Burke discusses The Clavey family by Arthur Devis and the sophistication of the 'conversation piece' in 18th century art; Robert W. Gaston analyses the Venetian context of Battista Franco's drawings for the Adoration of the Magi and his fresco of the same name, completed by Frederigo Zuccaro after Battista's untimely death in 1561; Jennie Boddington emphasises the milestone in photography that was the works of Paul Strand; and Jennifer Phipps comments on the unusual portrait of Maria Elizabeth O'Mullane and her children, by an unknown artist in Australia c.1852.
We are also pleased to include an essay by Emma Devapriam on eleven Indian miniatures presented to the Gallery by Major G. B. Walker as Rajput paintings, and Geoffrey Edwards's comments on the porcelains of Mary Rogers, Jacqueline Poncelet and Sheila Fournier.
We trust you will enjoy the articles and appreciate the breadth and depth of the contributors' research and scholarship in this edition.
Essays
Publication details