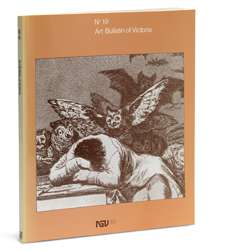 This edition of the Art Bulletin of Victoria 19 features essays that examine a wide range of works from the NGV's collection.
Highlights include: Frank I. Hecke's discussion on Francisco Goya's Caprichos, Robert W. Gaston's essay on the Italian painting Holy Family with St Jerome, a female martyr, and the infant St John the Baptist by Prospero Fontana, Eve Buscombe's examination of Augustus Earle and his portraits, and Peter Connor's discussion of a medieval sculpture of Saint John the Baptist.
Leigh Astbury provides an analysis of artist Tom Robert's painting Shearing the rams and Geoffrey Edwards discusses a Minton Parian figure Lalage. Also included is an essay by A. D. Trendall titled 'Three recently acquired Greek vases'.
We trust you will enjoy the insights offered in these articles.
Sonia Dean, Literary Editor
Essays