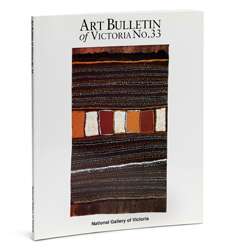 This edition of the Art Bulletin of Victoria 33 features essays that examine a wide range of works from the NGV's collection.
Highlights include: Irena Zdanowicz's analysis of Hubert Herkomer's etching purchases, Bridget Whitelaw, John Payne and Gillian Leahy's discussion on Australian artist Frederick McCubbin; James Bennett explores the works of Tiwi artists Nancy Henry, Kitty Kantilla and Jean Baptist.
Terence Lane also provides a thorough investigation into the furniture exhibited by cabinet-makers at the 1880–81 Melbourne International Exhibition held at the Royal Exhibition Building, an essay by Nancy Sturgess on the Melbourne Portrait for Rembrandt; and John Payne discusses Tintoretto's Doge Pietro Loredano.
We trust you will enjoy the insights offered in these articles.
Sonia Dean, Literary Editor
Essays
Publication details