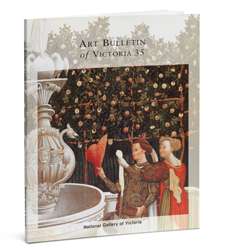 This edition of the Art Bulletin of Victoria 35 features essays that examine a wide range of works from the NGV's collection. Highlights include: NGV's Senior Painting Conservator John Payne's deconstruction of the fifteenth-century Italian panel The Garden of Love; and Helen Hass's exploration of Albrecht Dürer's pious etchings of the Virgin Mary and the Christ Child.
In addition, Paul McIntyre from the Hamilton Art Gallery discusses a rare drawing by the talented artist Richard Parkes Bonington; and Paul Paffen's article based on his thesis on Everard Studley Miller's Bequest to the NGV.    
We hope you will enjoy reading these articles which have been crafted with significant research and scholarship.
Sonia Dean, Literary Editor
Essays