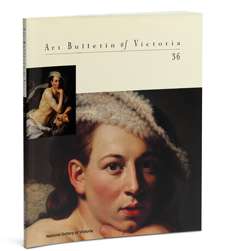 This edition of the Art Bulletin of Victoria 36 encompasses essays discussing works from a variety of areas of the NGV's collection:
Michael Watson comments on Johan Zoffany's David with the head of Goliath, discussing the artist's wicked and often perverse sense of humour; Dagmar Eichberger 'rediscovers' Beneath the arena,  a painting by the European master Karl von Piloty, discussing its popularity in the late nineteenth and early twentieth century and its resurrection at the Ballarat Fine Art Gallery; Helen Morgan remarks on Thea Proctor's involvement with fashion in London in 1910–11, and the infamous jupes-culotte;
Judith Ryan provides an in-depth discussion about the aesthetic principle in Aboriginal art; and Laurelee MacMahon investigates John Henry Connell and the development of the Connell Collection at the National Gallery of Victoria.
We also say goodbye to Professor Arthur Dale Trendall, 1909–1995. The classical archaeologist and leading international authority in South Italian vase painting and pottery will leave a gap at the National Gallery of Victoria not easily filled.
We trust you will enjoy the articles and appreciate the breadth and depth of the contributors' research and scholarship in this edition.
Essays
Recent acquisitions
Publication details