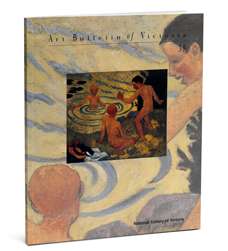 This edition of the Art Bulletin of Victoria 38 features essays that examine a wide range of works from the NGV's collection. Highlights include: a discussion on the NGV's Rembrandt etchings, a technical examination of Paul Sérusier's painting Boys on a river bank; and an examination of Robert Carl Sticht's extensive collection of prints and drawings.
Norbert Middelkoop provides an analysis of Simon Pietersz Verelst, Jan Davidsz de Heem, Abraham Mignon and Rachel Ruysch. Derek Gillman also discusses the history of two Buddhist sculptures The Bodhisattva Avalokiteshvara and The Bodhisattva Mahasthamaprapta.
We trust you will enjoy the insights offered in these articles.
Sonia Dean, Literary Editor
Essays
Recent acquisitions
Publication details