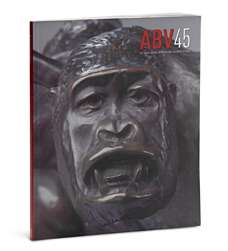 The Art Bulletin of Victoria 45 contains an array of absorbing articles discussing various works in the NGV's collection. Highlights include: Tedd Gott's exploration of the talented French sculptor Emmanuel Frémiet who created controversial, yet impressive works, such as Gorilla carrying off a woman 1887; and Prof. David R. Marshall's essay on Canaletto's remarkable painting Bacino di S. Marco, 1764–55.
Also included in this issue is a discussion on Lucio Fontana's Spatial concept by Anthony White, the changing view of Australian landscape photography by Jane Lydon and Jennifer Phipps's essay on three Melbourne realist artists – Noel Counihan, Vic O'Conner and Yosl Bergner.
This edition also comprises interesting articles that provide an insight into recent NGV acquisitions such as Australian painter Charles Blackman's Feet beneath the table and prominent Japanese designer Rei Kawakubo's Dress.
We trust you will enjoy the insights offered in these articles.
Isobel Crombie, Commissioning Editor
Essays
Recent acquisitions
Publication details