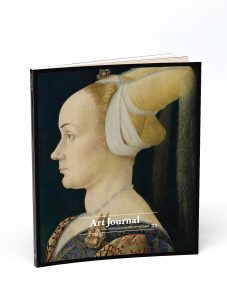 This edition of Art Journal of the National Gallery of Victoria presents five unique essays that focus on paintings, dating from the fifteenth century through to the late twentieth century, in the NGV Collection.
The Italian Quattrocento painting Profile portrait of a lady, c. 1465 – a key work in the NGV's holdings of Italian Renaissance painting – is analysed from two differing but related perspectives which independently attribute the painting to a northern Italian, specifically Ferrarese, courtly context. Carl Villis has reassessed the work's origin and date of execution, drawing upon material, technical and stylistic observations made during the course of conservation treatment carried out upon the painting at the NGV. Elisabetta Gnigera extends Villis's analysis of the portrait through a meticulous comparative study of the sitter's costume and adornment, resulting in increased clarification of both the dating and localisation of the painting's production.
Steven Tonkin reviews the art and career of the Australian painter Donald Laycock, from his pictorial breakthrough in the world of abstraction in the 1950s to his enduring interest in ideas of the cosmos. The recent acquisition of Óscar Domínguez's La couturière (The dressmaker), 1934, is the subject of Kylie King's essay, which places the painting within its art historical and social context as a means of exploring the psychosexual symbolism within its complex, Surrealist iconography. Rebecca Edwards traces the fascinating history of Mount Saint Michael, Cornwall, 1830, by Clarkson Stanfield, through discussion of the artistic and literary significance of the site itself, its interpretation by the artist and contemporary reception.
We trust that you will enjoy these unique perspectives on works, both familiar and new, in the NGV's rich paintings collection. Each of our writers brings new scholarship and exciting insights to understandings of the works considered.
Maggie Finch and Matthew Martin, Commissioning Editors
Essays
Recent acquisitions
Publication details