Melbourne Design Now, is a showcase of industrial, product, furniture and object design comprising 90 unique design projects from 40 Melbourne designers and design studios. Melbourne Design Now celebrates design's relationship to everyday life and how contemporary designers are embedding unique and serial design production with ideas, meaning and emotion to resonate with Melbourne Now.
As consultant curator for Melbourne Design Now – a core component of Melbourne Now, I can't wait to share all of this tremendous design production. The Ian Potter Centre: NGV Australia will be the epicentre of the showcase – but design will be everywhere! My colleagues, consultant curators Ewan McEoin and Fleur Watson are also busy planning their design and architecture presentations for Melbourne Now. Come November when Melbourne Now launches and the NGV audience will encounter Melbourne design and architecture on an unprecedented scale.
With all of the designers now locked-in and design works secured for Melbourne Design Now, the task of designing the installations and exhibition spaces has begun. Working with me on the exhibition design is my practice collaborator, Melbourne architect Edmund Carter. Supporting the curatorial and exhibition design phases, Melbourne Design Now assistants Antonia Hardy and Suzannah Henty have retrieved and catalogued hundreds of files from the 40 participating designers, including project descriptions, specifications and object files.
Near to resolving the design of the largest element in Melbourne Design Now, 30 design projects representative of design in everyday life appear in a giant wall installation of 7m high x 15m wide. The exhibition design strategy for interpreting the five curatorial themes: Design and Social Culture, Design and the Economy, Design and Sustainability, Design and the Human Body, and Design and Visual Culture, is lifted from the language of manufacturing. Communicating design's relationship to serial production the 30 projects are displayed in multiple units. Tram grab handles, brooms, chairs, lamps, power tools, bike locks, bags, VFL footballs, drink flasks and sailboat hardware, to name a few, combine to deliver a visually arresting landscape of the localised creative intelligence embedded in humble, everyday things.
With another 2 elements of Melbourne Design Now coming together this week and next, stay tuned for more updates!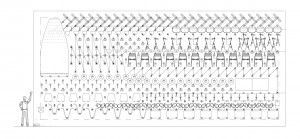 Melbourne Design Now is supported by the Hugh D. T. Williamson Foundation.