It has been exciting working with the multi-disciplinary artist Darren Sylvester this year on a major new commission for Melbourne Now.  Among many ideas for new projects, Darren proposed the extraordinary concept of creating a large-scale illuminated dance floor within the NGV gallery space that was to reference the current palette of colours from an international make-up brand, specifically using the latest range from Yves Saint Laurent. A place to bring people together, sparking [desires and fears] fears and desires, all in the midst of a highly designed space referencing 'feel good' colours based on beauty products.
Over the last few months, members of our sound, multimedia, design, curatorial, lighting, assets & facilities, exhibition design and management teams have been researching, discussing ideas, and designing plans with Darren for how to bring this project to life.  From tracking down light boxes, to colour matching lipstick shades, and working to create the look and feel of a functioning dance floor, it is really a unique project.
The dance floor installation will also feature a new soundtrack that has been written and produced by Darren Sylvester, Conrad Standish of Standish/Carlyon and James Cecil of Super Melody.
The title for the dance floor is For you.  It is both a statement and an ethos that Darren is very sincere about – this is a work that promises to be unexpected, fun and beautiful.  Ultimately, it is a space to come together, dance, get active and enjoy yourself.  As Darren says, it's quite simple – it is 'for you'.
We are delighted that this project has been made possible with the support of VicHealth and is assisted by the Australian Government through the Australia Council for the Arts, its arts funding and advisory body.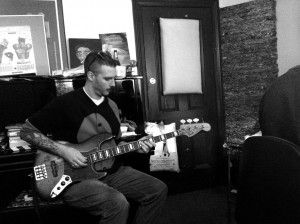 Darren Sylvester working with Conrad Standish of Standish/Carlyon and James Cecil of Super Melody to write and produce the soundtrack for the dancefloor (Taken by Darren Sylvester).