One of the most rewarding aspects of my involvement with the Mid-Century Modern: Australian Furniture Design exhibition was researching the design output of Michael Hirst (1917 – 2002). Hirst designed and manufactured a range of stylish furniture pieces, including tables, chairs and bookcases throughout a notable career beginning in 1955 and ending on his retirement in 1982.
Hirst is also well known for his work with Clement Meadmore during the mid 1950s, primarily as the manufacturer of a wire framed chair commonly known as the DC601A chair, and a wire base coffee table that Hirst described as the Meadmore Principle table. Both of these pieces in the past have been credited solely as Clement Meadmore designs. However, researching the Michael Hirst archive held by Joy Hirst, Michael's widow, I was able to clarify that Hirst was not only the manufacturer of both of these mid-century icons, but also had a significant and until now, uncredited role, in the design process.
Hirst himself described his role (in a letter from 1987 to Christopher Menz, then Curatorial Assistant of Australian Decorative Arts at the National Gallery of Australia) as 'a collaboration' with Clement Meadmore. Hirst also went on to say that he expanded the original designs into 'a number of variations such as square tables and bookcases'. This statement sets the foundation for attribution of the subsequent 'variations' solely to Michael Hirst. Some of these designs were introduced well into the 1960s, long after Meadmore had left Australia, further cementing the design credit to Hirst.
The variations that came after the Meadmore Principle table include a large square marble topped coffee table, tall bedside tables, a series of nesting tables in both teak and marble, a plastic coated, perforated metal top table and most strikingly, a wire framed, stackable, bookcase known as the `Michael Hirst Unit Shelves'.
Hirst's variations of the original DC601A wire chair begin with a shorter version, where the tapering backrest was transformed into a shorter, wider, curved back. The base was also redesigned, becoming more square, to help spread the load more efficiently to the external points of the seat base. (this chair was later offered with a sleigh or skid base). Hirst also designed a `tub' or `carver' version of this chair where the wire structure continues up the sides from the base of the seat and over the edge to form arm rests. This `tub' version also came with a star shaped pedestal base. There was yet another design, constructed with wooden arms that were suspended on metal rods attached to the side of the seat base (although it is unclear whether these last two designs were ever put in to production).
These variations clearly relate to the two original collaborations between Meadmore and Hirst. However, in my opinion the variations, through a series of clever structural changes and simple aesthetic adjustments become essentially new designs. These stand alone as a testament to Michael Hirst's skill, adaptability and ingenuity as both designer and manufacturer.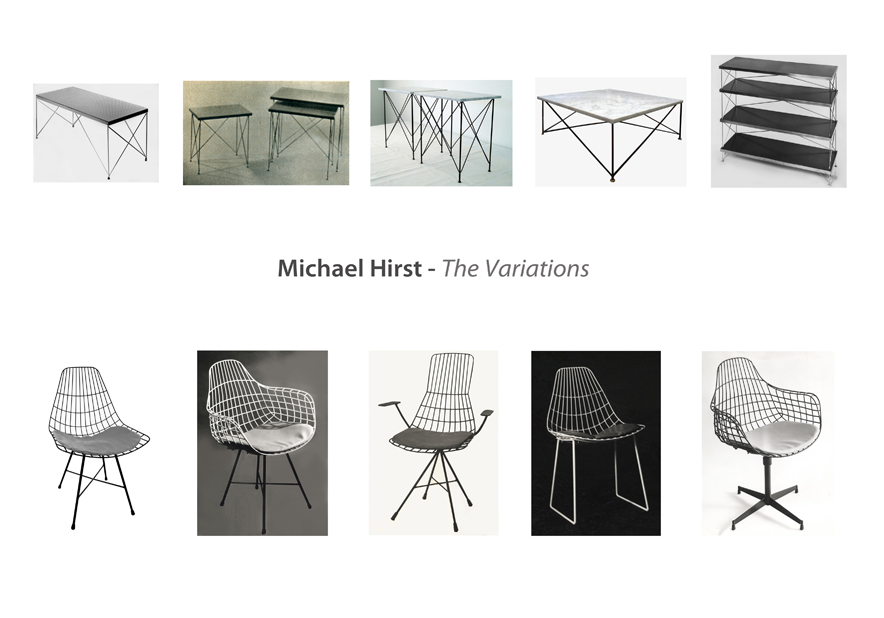 Peter Atkins is a contemporary artist and collector based in Melbourne. Peter's essays titled 'Michael Hirst – The Variations'  and  'Influences and Parallels – The Early Industrial Design of Clement Meadmore' are available in the accompanying Mid Century Modern – Australian Furniture Design catalogue