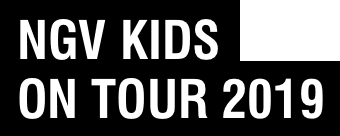 Incredible Illusions
Inspired by Escher X nendo | Between Two Worlds
Artist M.C. Escher's detailed prints of mind-bending optical illusions will have you seeing stars and scratching your head. Learn the tricks behind some visual illusions and try your hand at making your own with the Incredible Illusions workbook. Impress your friends by challenging their perspective and create your own illusionary work of art.
Dog's Life
Inspired by Being Human: William Wegman
Inspired by the artist's playful photography and popular children's book, NGV Kids have collaborated with William Wegman to create a collage and drawing activity starring Wegman's own beloved Weimaraners.
Terrific Tessellations
Inspired by Escher X nendo | Between Two Worlds
Create your own 3D work of art, inspired by Escher's affinity for tessellation patterns. Bring colourful designs to life by sculpting patterns into a tetrahedron shape.
Build Your Town
Inspired by New York! New York! for Kids
What do you see in the streets of your town? Inspired by the NGV's take on the city of New York, use brightly coloured materials to build your own town – or to create a fantasy urban landscape purely from your imagination. Make believe!