With the recent success we have had in activating Federation Court at NGV International – first with the kinetic sculpture clinamen by Céleste Boursier-Mougenot and, following that, the instruments and performances that made up the Disarm project by Pedro Reyes – for Melbourne Now we wanted to continue to use this iconic space as a site of conviviality and emersion.
Rory Hyde is a well-known young architectural designer who last year was included in the Australian pavilion of the Venice Architecture Biennale, and who can be heard regularly on The Architects, a radio show on 3 Triple R FM. Rory has been invited to develop a new project of provisional architecture especially for the exhibition, and he has responded with a work that references the original designer of the NGV International building, Sir Roy Grounds.
Grounds created a series of provisional structures in the country-side of NSW, in what is now Mimosa Rocks National Park. One of these 'tests' included a geodesic dome, created in 1966 and which still stands today, employing metal Tomlin garbage bin lids as the connectors.
For Melbourne Now Rory is creating Bin Dome, a dome structure that uses the iconic semi-translucent IKEA waste paper bin, 1,000 of which are being fixed together to form a skin under which a plethora of activities are enabled. Rory has allowed a sneak peak here with images of the bent wooden superstructure being crafted in the workshop.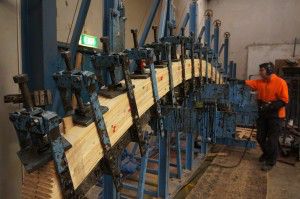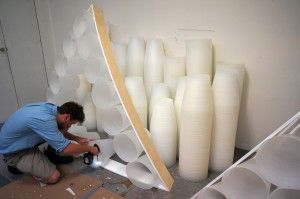 These beams are being erected on site, with Rory and his dedicated team working in full view of the public. For those that would like to see this project come together they will be constructing this over coming weeks (until the 15th November we anticipate): first with fitting together the wood and steel structure, the insertion of the bins, and then the introduction of aerophytes (or air plants) onto some of the bins, which will grow throughout the exhibition.
The structure will act as an info hub for Melbourne Now, as well as a mutable space for other activities including radio broadcasts, music performances and other public programs. It is complemented for the opening week of the exhibition by an inflatable weather balloon which engages and activates the height of the Federation Court volume, and which subtly honours Cedric Price, a practitioner symbolic of architectural imagination and experimentation, along with Grounds and Buckminster Fuller.
Rory Hyde has been generously assisted by Kevin O'Connor at RMIT workshop, Amy Silver, Toby Pond, Jon Anderson, Vaughan Howard, Darcy Zelenko, Ziga Testen, Aiman Ahmad, Darragh O'Brien, Tim and Caleb at VicBeam, Anthony, Ed and Chloe Hyde.
This project has been generously supported by the Loti & Victor Smorgon Fund.