Exhibiting the ideas behind the making of a piece of architecture is the most challenging of curatorial tasks. Yet, it can also be one of the most rewarding when those ideas are transformed into a compelling installation that gives insight into the design process.
Over the past two weeks, it's been an incredibly exciting time to see the hours of work and discussions with the six practices invited to take part in the studio section of Sampling The City being translated and extruded on the Incubator walls.
The Incubator marks the culmination of the four key parts of the Sampling the City project that begins the entry 'billboard' (with key themes), the 'black box' room (with an immersive, image rich video and soundscape) and the 'nook' (with an intimate video work by artist Matthew Sleeth).
The Incubator defines a key feature that is specific to Melbourne architecture – the link between education, critical thinking and the experimental studio practice through built commissions, competitions and teaching. Each of the six were chosen to represent practices that are ideas led, open to experimentation and with a diverse set of positions and interests.
Cassandra Fahey's (Cassandra Complex) delightful and colourful 'project crystals' seemingly float over the wall creating an abstract pattern that recalls op art and the quality of effervescent bubble lifting off the wall.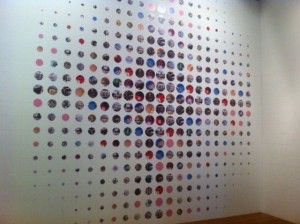 Muir Mendes blankets their wall with an installation of steel and concrete that expresses their commitment to the 'honesty' of raw materials. The work also nods to the practice's multi-cultural framework and their intimate understanding of the landscape of rural Portugal juxtaposed against an Australian urbanity.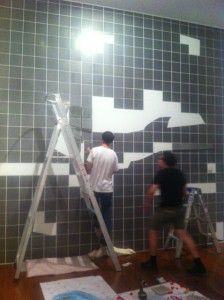 Pinned like a giant, butterfly taxidermy to the wall, Studiobird's performance 'wagon' references Matthew Bird's long collaboration with Balletlab's Phillip Adams. Behind the sectional large-scale model are process images that reveal the references and narrative behind the project.
March Studio's 'barcode' datascape installation surveys the life of project by drawing over 3000 images from the studio's server over an 18-month period giving an insight into the extraordinary amount of information that is generated within the design process.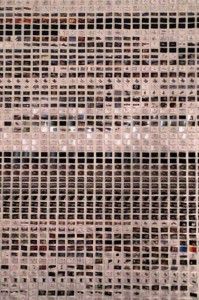 Studio Roland Snooks – whose work is informed by robotic fabrication and swarm systems – dispels any myths of 'advanced architecture' being devoid of poetics with his beautiful intricacy of his polystyrene models and concrete cast forms. While at the other end of the spectrum Make Architecture display their mastery with patterning, layering and material experiments using timber, clay and brick as well as an interactive 'building game' for children.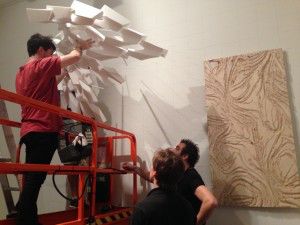 Together, these simple yet resonant installations aspire to communicate and reveal the inventiveness and creativity of the architectural process and, in doing, communicate that architectural thinking and ideas have a powerful contribution to make to our collective culture.
Melbourne Design Now is supported by the Hugh D. T. Williamson Foundation.