Japanese suits of armour are complex constructions made with many different materials including suede, rawhide, silk, hemp, various metals and Asian lacquer. These materials are woven, dyed, moulded, or stitched by specialist craftsmen to make each of the twelve parts of a basic suit. We're able to learn a bit more about how the parts are constructed by using radiography, and comparisons can be made between the different suits in our collection to understand the use of the suit (ceremonial versus battle) and materials technology at the time of manufacture.
Here are two examples of shin guards, called suneate. One is part of an elaborate suit currently on display in the main Bushido exhibition room (images 1 and 2), while the other belongs to a much simpler suit on display in the wall case at the entrance to the Asian galleries (image 3). The resulting x-ray images reveal which parts are made of metal, shown as opaque white areas, and help us to identify other materials such as wood or leather. The image of the first shin guard shows that the vertical strips were made by attaching metal to a backing of leather (not otherwise visible without radiography) which was then lacquered, then joined to the neighbouring strip using a dense linkage of chainmail called kusari. The shin guard from the other suit has fewer vertical strips which are made only of lacquered metal connected by narrow bands of chainmail, making it perhaps lighter to wear but also affording its wearer less protection.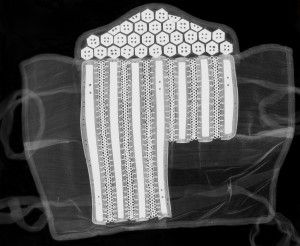 (xray of shin guard for 460-D2)
(xray of shin guard for 2066-D1A)
Armour
Yoroi
Edo period 18th century, Japan
Lacquer on metal (maki-e), wood, pigment, silk, cotton, leather, metal (thread)
Gift of Mrs Henry Darlot, 1888 2066.a-k-D1A
Above the vertical strips there are small hexagonal metal plates called kikko stitched between layers of suede and hemp. Developed around the 14th century, they provided more flexible protection for the knee area.
Bushido: Way of the Samurai closes on Tue 4 Nov, so please come and see for yourself more of the spectacular craftsmanship of the NGV and loaned suits of Japanese armour.