Featuring the work of over 100 artists and designers from 32 countries, the NGV Triennial surveys the world of art and design, across cultures, scales, geographies and perspectives.
A free exhibition, the NGV Triennial 2017 is a celebration of contemporary art and design practice that traverses all four levels of NGV International, as well as offering a rich array of programs.
The NGV Triennial 2017 explores cutting edge technologies, architecture, animation, performance, film, painting, drawing, fashion design, tapestry and sculpture.
Visitors have an opportunity to look at the world and its past, present and future through the eyes of some of the most creative minds working today.
NGV International
15 Dec 17 – 15 Apr 18
2017 NGV ARCHITECTURE COMMISSION
The 2017 NGV Architecture Commission will premiere to coincide with the NGV Triennial. The third in an annual series of temporary architectural structures commissioned to activate the Grollo Equiset Garden, the NGV Architecture Commission encourages architects to design a participatory, evocative and thought provoking work of temporary architecture.
In 2017, the NGV Architecture Commission explores the intersections and resonances between and across related design and adjacent sectors. Participatory in nature, it engages audiences with the dynamic forces that shape the world around us.
Through this commission the NGV seeks to explore and reveal progressive thinking and approaches to activation and audience engagement; new propositions in architecture and design; and innovation in material use, fabrication, technology and sustainability.
The 2016 NGV Architecture Commission was designed by [email protected] STUDIO Architects (2016) who transformed the Grollo Equiset Garden with a playful and ephemeral reinvention of the suburban car wash titled Haven't you always wanted...?. The inaugural Architecture Commission was presented in 2015 by John Wardle Architects, who designed an exuberant pavilion of steel, timber and hand-formed textile elements.
Supported by RMIT University, The Golden Age Group, and The Hugh D.T. Williamson Foundation. The NGV Garden is supported by Loris Orthwein.
SUPPORTERS
NGV Triennial 2017 has been made possible by the support of donors whose early commitment has provided crucial encouragement, and we extend our sincere gratitude for their generosity:
NGV TRIENNIAL CHAMPIONS
Felton Bequest
Loti & Victor Smorgon Fund
NGV Women's Association

NGV TRIENNIAL LEAD SUPPORTERS
Michael & Emily Tong
Fox Family Foundation
Rose Downer & John Downer AM
Orloff Family Charitable Trust
Krystyna Campbell-Pretty & the Campbell-Pretty Family
Robin Campbell & Bruce Parncutt AO
Maureen Wheeler AO & Tony Wheeler AO
John Higgins & Jodie Maunder
Connie Kimberley & Craig Kimberley OAM

NGV TRIENNIAL MAJOR SUPPORTERS
Peter Clemenger AO & Joan Clemenger AO
The Hugh D. T. Williamson Foundation
Len & Elana Warson
Anonymous
Bonnici Family
Michael Schwarz & David Clouston
Karen McLeod Adair & Anthony Adair
The Gordon Darling Foundation
Spotlight Foundation
Norma & Stuart Leslie Fund
Elizabeth Summons Grant in Memory of Nicholas Draffin
Truby & Florence Williams Charitable Trust
Crown Resorts Foundation and Packer Family Foundation
NGV TRIENNIAL SUPPORTERS
Vicki Vidor OAM & Peter Avery
Cameron Oxley & Bronwyn Ross
Chris Thomas AM & Cheryl Thomas
Jo Horgan & Peter Wetenhall

Department of Foreign Affairs & Trade
Michael & Andrew Buxton from MAB Corporation Pty Ltd
Gjergja Family
Bowness Family Foundation
John McCaughey Memorial Prize Trust
Esther Frenkiel OAM & David Frenkiel
Sarah Morgan
Brendan & Grace O'Brien
Andrew Cook
Prof. John Hay AC & Barbara Hay
Jane & Stephen Hains
Vivien & Graham Knowles
Norma Leslie
Neville & Diana Bertalli
Australia-Japan Foundation
Andrew & Geraldine Buxton Foundation
Victorian Fund for Living Australian Artists
Sarah & Ted Watts
The Trawalla Foundation
Nicholas Allen & Helen Nicolay
The Embassy of the Kingdom of the Netherlands
Leigh Clifford AO & Sue Clifford
Virginia Dahlenburg
Anne Ross
John & Cecily Adams
Nick Perkins & Paul Banks
Culture Ireland
Tom Mosby
Robert & Karen Boscarato
NGV Supporters of Contemporary Art
NGV Patrons
BEQUEST SUPPORT
Suzanne Dawbarn Bequest
Ruth Houghton Bequest
Donald Russell Elford & Dorothy Grace Elford Bequest
PARTNERS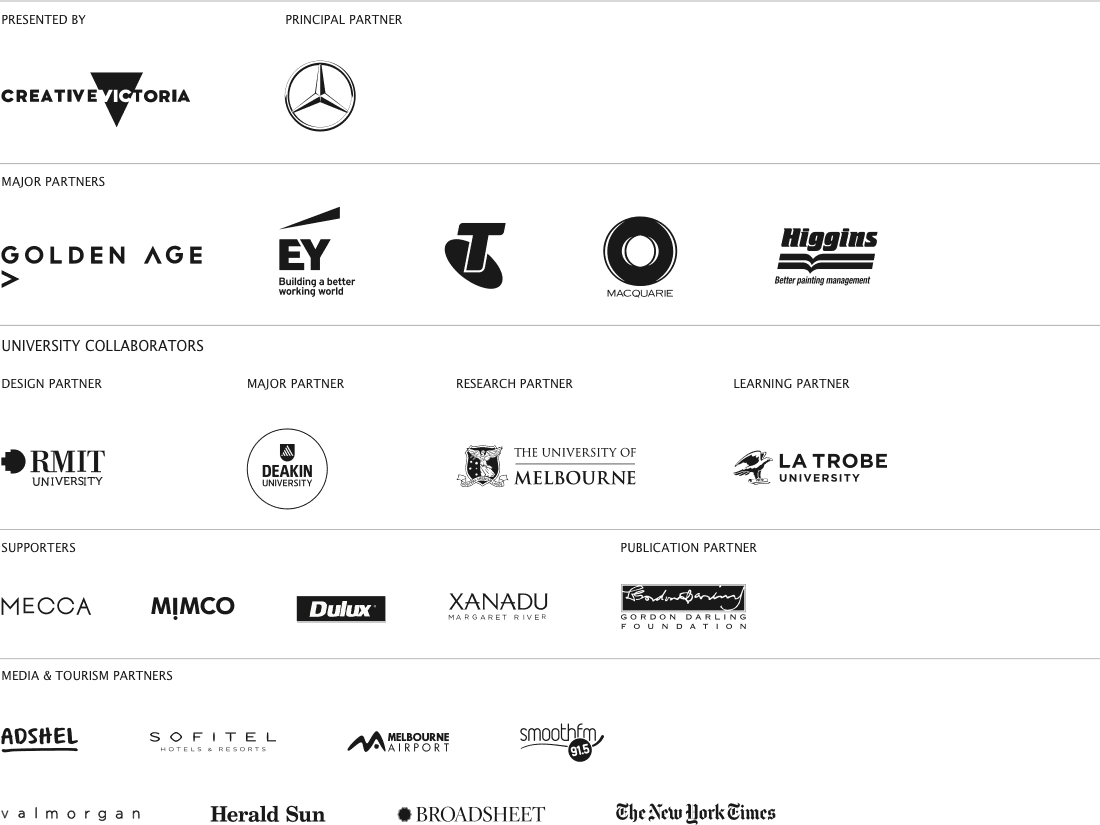 Works in this exhibition are protected under the Australian Government's Protection of Cultural Objects on Loan Scheme.
Find out more