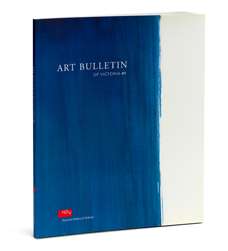 Art Bulletin of Victoria 41 is dedicated to Sonia Dean, who was the Editor of the Bulletin for twenty-seven consecutive years until her retirement from the Gallery in December 2000. This edition encompasses essays discussing works from a variety of areas of the NGV's collection:
David Marshall investigates the contested self-portrait of Gianlorenzo Bernini as a young man, developing a case for the Melbourne painting through analysis of Bernini self-portraits from museums around the world; Mae Anna Pang discusses the 'art of imitation in Wang Yuanqi's Fuchun Mountains scroll', commenting on Yuanqi's predecessor, Huang Gongwang, his successor, Dong Qichang, and the dynamic rhythms inherent in their art; Natalie Adamson presents an essay on Pierre Soulages, 'one of the best talents – though most reluctant members – of the École de Paris'; Alison Inglis studies the famed British painter John Constable and his associations with the Rebow family in 1816, discussing Constable's attachments to the landscapes of Wivenhoe and Alresford Hall; and John Kean presents an in depth discussion on the works of Johnny Warangula Tjupurrula, the formal elements linking the paintings of Warangula with the art of Fred Williams and John Olsen, and the ecological cycles that continually inspired his work.
We are also pleased to welcome to the Gallery's collection John Brack's candid Self portrait; Hugh Ramsay's exceptional oil-painting Jeanne, a portrait of his concierge's daughter in Montparnasse; and Rio Tinto's magnificent donation of eighteen gouaches and thirteen paintings, by the Fred Williams selected from his Pilbara series – representing the most significant corporate gift ever made to the National Gallery of Victoria.
We trust you will enjoy the articles and appreciate the breadth and depth of the contributors' research and scholarship in this edition.
Essays
Recent acquisitions
Publication details