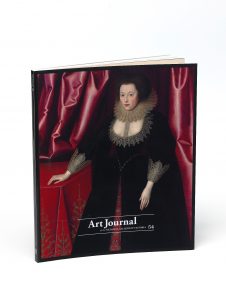 Two essays in this edition of Art Journal of the National Gallery of Victoria provide unique perspectives on aspects of design and programming in the early years of the 'new' NGV on St Kilda Road, Melbourne, which opened in 1968. Denise Whitehouse sheds light on the little-known role played by Grant and Mary Featherston who, from 1966 to 1968, fitted out and furnished the new premises; and Rebecca Coates examines the John Kaldor Art Projects series of international art events and exhibitions presented at the Gallery in the 1970s as a means of examining private–public art partnerships.
Rigorous research by Matthew Martin and Carol Cains into an early seventeenth-century English cabinet reveals intriguing connections between one of the earliest extant examples of imitation lacquer work produced in England and contemporary English needlework designs. Elsewhere in this issue, Nancy Langham Hooper explores the complex history of commissioning, display, storage and eventual restoration of the monumental painting by John Rogers Herbert 's Moses bringing down the Tables of the Law, c. 1872–78; and Emily Wubbens exposes an intriguing paradox of identity in Edward Burne-Jones's enigmatic portrait of Baronne Madeleine Deslandes, 1895–96.
The Gallery 's commitment to engage younger audiences is reflected upon in Katie Somerville's lively commentary in this issue. Somerville discusses the NGV's recent collaboration with Sydney-based fashion house Romance Was Born to develop an immersive exhibition for kids, driven by the designers' desire to unleash a sense of 'curiosity, unconstrained creativity and imagination'.
The breadth and depth of research and scholarship included here reflects the diversity and richness of the NGV itself. We trust you will enjoy it.
Maggie Finch and Matthew Martin, Commissioning Editors
Essays
Commentaries
Recent acquisitions
Publication details